Army Veteran Phil Dill, 49, found himself homeless in Phoenix after a failed business and a serious health issues that landed him in the VA Hospital. Laying in his recovery room, Dill feared recovering on the streets until he got referred to the MANA (Marine, Army, Navy, Air Force) House, a transitional living house run by Catholic Charities in central Phoenix.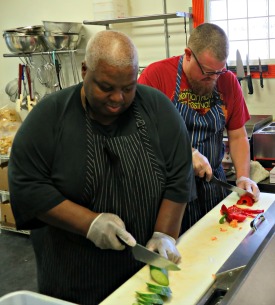 Veteran Job Development Program
As a part of Dill rebuilding his life at the MANA House, he got introduced to a veteran's job development program at The Refuge Café. The Refuge Café, located at 4727 N. 7th Avenue, is a Catholic Charities social enterprise to help raise funds for its programs.
Dill enrolled in the program and started working under the supervision of John Strawn, director of services for The Refuge Café. "We help veterans acclimate back into a work environment," said Strawn. "They learn to prep food, be a barista, stock and customer service. We also help them to figure out what job they want to work toward, like in Phil's instance, he wants to go into marketing."
A Plan for the Future
Each veteran is given a specific plan based on their history, any health or mental health issues and life goals. The program pays minimum wage and lasts for 12 weeks, with each veteran working 18 hours per week. At the end of the time period, each veteran will have an updated resume and plan for continuing their career goals, either in attending school or finding another job placement.
But for now, men like Dill are enjoying being a part of the workforce again and making new friends.
"I like working here. They are very professional," said Dill. "It motivates me to be back in the workplace."
Learn more about the MANA House or do what you can to help veterans experiencing homelessness in Arizona.