Craig, a Desert Storm veteran, is proud of his time in the Army. He loved the sense of belonging he found in the service. He found a similar experience working at the Veterans Administration (VA) as a linen clerk.
Life was good for Craig. He had an apartment he loved, and job where he made a difference and he was healthy, except some knee pain. That pain escalated and eventually Craig needed knee replacement surgery.
Surgery led to Eviction
An unexpected allergic reaction after surgery resulted in complications, Craig was hospitalized for 3 weeks and was evicted while he was in the hospital. He had nowhere to go. He still had a long recovery ahead of him but was well enough to be released from the hospital.
Craig learned about Catholic Charities MANA (Marines, Army, Navy, Air Force) House, a transitional housing facility for veterans experiencing homelessness. "MANA House was an emotional and physical reset," said Craig.
Helping Veterans Thrive
When veterans enter MANA House, they work with their case manager to make a plan to help them transition to stability. The case manager walks alongside the client, helping them to set goals and overcome obstacles.
MANA House was a safe place for Craig to continue to recover from surgery and rehabilitate his knee. His case manager, Cheryl Moore, was impressed with his ambition, "Craig is a hard worker and a go getter."
Since Craig wasn't cleared to go back to work yet, he was concerned he would lose his job. He stayed on top of all his medical appointments and paperwork. Moore worked with Craig to make sure everything was in order so he could go back to his job as soon as his knee was healed.
Veteran Inspires Others
"Craig is not one to sit and complain, he didn't want anyone to do things for him," said Moore. "He is a people person and always willing to help, always quick to volunteer."
Like many veterans, Craig thrived being around others who have served. "When someone's PTSD was acting up, the veterans recognize it and help each other," said Moore.
Craig's proactive nature inspired other veterans. "As a veteran, Craig felt a responsibility to help others," said Moore. He mentored a couple of residents who also lived at MANA House. He motivated them to work the program.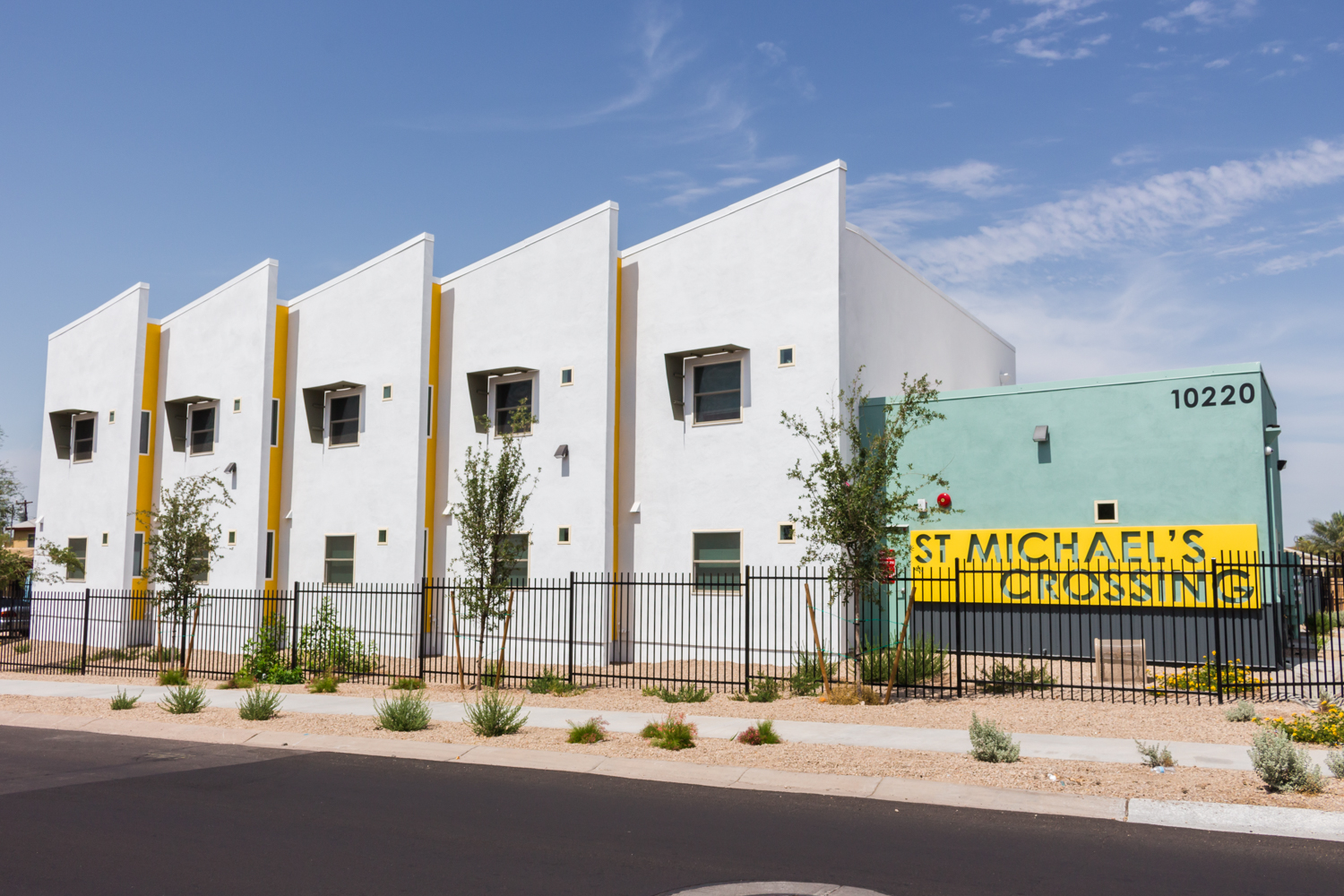 St. Michael's Crossing
After leaving MANA House, Craig became one of the first residents at St. Michael's Crossing, a new permanent affordable housing community for veterans developed by Housing for Hope, an affiliate of Catholic Charities. Residents pay rent and utilities which help them build a positive credit history.
"I love St. Michael's Crossing! It's perfect for me. It's the first time I've ever lived in a place where everything was brand new," said Craig.
The location is also perfect for Craig. A nearby park and mountain hiking trails are ideal places for Craig to rehabilitate his knee. He takes a long walk every morning and is feeling stronger.
Craig enjoys the same camaraderie he experienced in the Army, at MANA House, and has now found at St. Michael's Crossing. "We have a brotherhood, we can talk and understand each other," said Craig.
Hope for the Future
Craig is optimistic for the future. He is back at work at the VA, but he has a passion for video journalism. He hopes to learn more about digital media and grow as an artist.
Catholic Charities is committed to helping veterans experiencing homelessness in Central and Northern Arizona. To join the No Longer Homeless campaign and support our Veterans, please contact a member of our Philanthropy Team at 602-650-4820 or email us at: This email address is being protected from spambots. You need JavaScript enabled to view it.. For more information, please visit our website.