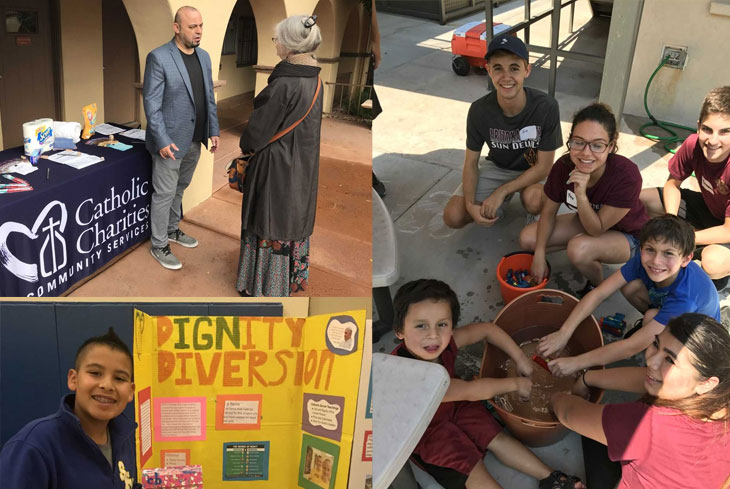 Welcome! We engage parishes and the community in the works of Catholic Charities by: Connecting people directly to our mission, educating people about our services, and promoting active service opportunities throughout the Diocese of Phoenix.
Let's Make Miracles Happen Together!
Your parish and community can put its faith into action to benefit the most vulnerable. It's as easy as 1, 2, 3:
Receive a presentation of our programs and a brief introduction to Catholic Social Teachings.
Allow time for the group to discuss and choose a Catholic Charities program.
Begin planning with the group and help our most vulnerable children and families, veterans, victims of domestic violence, victims of sex-trafficking, refugees, those experiencing homelessness and more!
These are a few ideas to engage your parish or group:
Hold a collection drive for items needed.
Coordinate a fundraiser: Dinner, auction, dance, bake sale, fish fry etc. to increase awareness and donations.
Host a marketplace where children/youth/parishioners create, make and sell items to earn money in order to purchase needed items for a program (ask about Miracle Projects through Volunteer Services!)
Provide a second collection during mass/service, set-up an information table and more!
The following long-lasting commitments can positively impact your faith and community:
- Host two-hour sessions, two or more times a year for domestic and refugee foster children.
- Celebrate and support foster families with parish/church/school/community center volunteers
offering: Christmas, Picnics, Date Night events, etc.
Offer affordable, stable, Catholic Charities' counseling services in your location for individuals and families.
Adopt a Catholic Charities' program. Create opportunities to support that program of choice with creative events, direct service, and donations.
Connect with our closest Housing Community to your location and develop opportunities to support the residents alongside our Resident Service Coordinators.
Host Citizenship Workshops at your location for future citizens. Waiver fees available!
Welcome Veterans and start a new club or ministry for their benefit.
Identify and Engage Catholic Charities Champions to join the cause and help spread awareness to people about our services and opportunities.
Engage with us! It could be the start of an ongoing effort at your parish or community to help those most vulnerable. For questions or to engage with us, contact: This email address is being protected from spambots. You need JavaScript enabled to view it.,
Parish Engagement Supervisor, 602-650-4832
Visit our Catholic Charities Awareness Toolkit to find more resources including bulletin announcements, prayer intentions and more.