Ken remembers serving in the U.S. Army in the Gulf War, but he doesn't like to. "We killed a lot of people," said Ken. "People think that war is just a cake walk, but its not."
After leaving the military in 1991, Ken spent more than 20 years walking a trail of heartache from post-traumatic stress disorder (PTSD) with five broken marriages and time in jail.
"I always try to do things on my own, do them my way," said Ken. "If I go somewhere or leave, I would just throw everything away. Sometimes I'd just leave with no money in my pocket, and I'd just leave and never come back."
As a carpenter, Ken was often able to get work. He would stay in a hotel room until the job ended then move on, always walking.
Dr. Larry Steven's began treating Ken's PTSD and connected him to Catholic Charities. They had recently started a program to try to help homeless veterans find housing. Ken was one of the first clients.
Catholic Charities staff found Ken an apartment but talking him into moving in was another story. "She took me over to an apartment and I turned them down flat. I was nervous, visibly shaken. I couldn't see myself in an apartment," said Ken. "I had nothing, what was I going to do with an apartment?"
Third time was the charm, as Ken agreed to move into his new place. Catholic Charities helped get items for his apartment. He still struggled to sleep and would stay out walking into the wee hours of the morning, never getting more than two to three hours of sleep.
A lot has changed for Ken in the last year. "Now I love my place," said Ken. "If I had stayed in the hotel, I would be drinking or getting in trouble again, maybe under a bridge or something."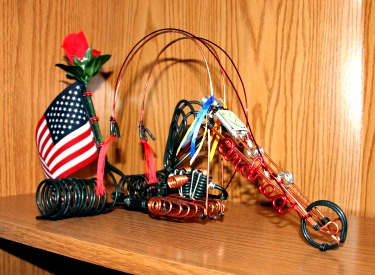 Ken credits God for turning his life around. "I surrendered to God, I don't do anything my way anymore," said Ken. "When I try to do things on my own it steals my joy, and it steals my peace. God gives me everything I need."
Ken spends his time studying his Bible and making decorative motorcycles.
Ken is thankful that Catholic Charities convinced him to move into the apartment. He just signed a new lease on his own and enjoys the stability of paying bills, something he hasn't done since he was in the military.
You can help bring a miracle to someone like Ken. There are thousands of veterans living on the streets in Arizona that need someone like you to walk beside them to recover. You can do this by joining our Veteran Team as a monthly donor or giving a one-time gift of $25, $50 or $100. Together, we can give veterans the support they need to rebuild their lives.