After 35 years of a transient life without a place to call home, Robert was ready to turn his life around. He could no longer drive or work. For many years, he had traveled around from state to state, and his living arrangements depended on his work.
At 78 years old, Robert has many stories to tell and a strong work ethic. In his travels, he's found himself working at a trucking outfit, a recycling plant, a ranch and a casino. However, this lifestyle started to take a toll when he found himself living in the scorching Arizona desert.
A Veteran in Crisis
He was stranded in Parker, Ariz. and suffering from heat stroke, with little more than an air mattress and tent to keep him comfortable in the elements. His condition was deteriorating fast. Worse yet, he was dealing with constant rashes from the scorpion plants that grew in the area.
"My legs would turn red and had all these bumps on them. You had to destroy your shoes, pants or anything that touched the plant. I didn't have any insurance [to get treatment]," he said.
A Caring Case Manager
Robert got in touch with Veterans Services case manager Danielle, who transported him to Kingman, Ariz. to get him the assistance he needed. She was dedicated to helping this resilient veteran and got him into emergency housing while he looked for a permanent home. She also helped him move his mail and finances to Kingman.
At first, Robert was hesitant to put his trust in someone else. But once Danielle showed him that she was by his side no matter what, he became extremely motivated to find a place to live.
A Life Changed for the Better
Within a week, Robert found a place to move into that was close to the resources he needed to access. Catholic Charities was able to pay his deposit and first month's rent. Danielle helped him obtain the basic supplies he had lost after being homeless for so long.
In his new home, Robert is within walking distance of the VA, Walgreens, a bus stop and Walmart, where he shops for groceries. Embracing this life change, Robert has since set up a savings account and is now quitting smoking. Danielle is proud of him as he continues to improve and care for his health.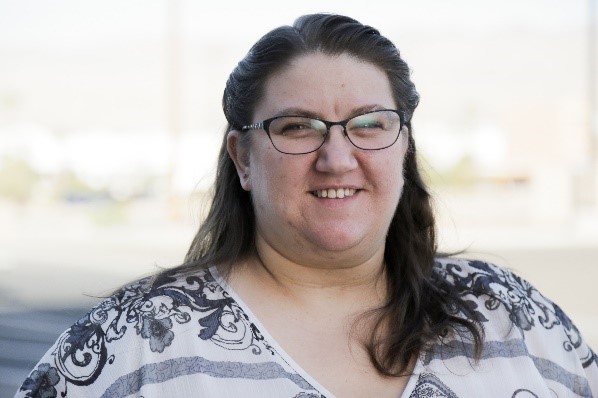 Danielle Holloway is a Team Lead Navigator with the Supportive Services for Veteran Families program with Catholic Charities. Danielle earned a bachelor's degree in Education from Black Hills State University. After teaching for 10 years in a rural community, she found that she was being called to do something more. Once she entered the nonprofit sector in workforce development, she began helping veterans find permanent stable housing. In her free time, she enjoys travelling, trying new things, and learning about different cultures.
Catholic Charities is committed to helping veterans experiencing homelessness in Central and Northern Arizona. To join the No Longer Homeless campaign and support our Veterans, please contact a member of our Philanthropy Team at 602-650-4820 or email us at: This email address is being protected from spambots. You need JavaScript enabled to view it.. For more information, please visit our website.