This year, Danielle Holloway and the Catholic Charities team in Mohave County were fortunate to participate in the annual Point-in-Time Count. The Point-in-Time (PIT) Count is done across the nation to count sheltered and unsheltered people who are experiencing homelessness on a given night.
The PIT Count has been likened to a yearly census of the homeless population. Individuals are surveyed to get the demographics necessary to help the government and other agencies see where resources are needed most.
Distributing Life-Saving Supplies
The team at Catholic Charities worked diligently for three days to cover Lake Havasu City, Fort Mohave and part of Bullhead City, Ariz. They organized five teams consisting of staff from the Veterans Services and Homeless Services programs.
The group started with 140 backpacks filled with supplies to distribute, such as toilet paper, wipes, sewing kits, combs, shampoo, soaps, lip balm, socks and food. By the end of the second day, they had run out of supplies and had to refill.
Greeting Those Experiencing Homelessness With Dignity
Danielle and her team met people from all walks of life. They encountered winter visitors, travelers, full-time converted school bus occupants, individuals who'd lost their income due to COVID and more.
Some were happy with their nomadic life or hesitant to trust those who were wanting to help, and others were just trying to get back on their feet. Most people greeted the team with a smile and story, while others were hesitant to engage after they were given food and water. Sadly, there is still a societal stigma around homelessness that may prevent people from reaching out for help and accessing resources.
Changing Lives for the Better
This was a rare opportunity for Danielle and her team. For many of the staff, it was their first time participating in the PIT Count and it was truly rewarding.
It impacted some so deeply, they were moved to tears. For Danielle, this opportunity reminded her why she does what she does every day to better the lives of the most vulnerable.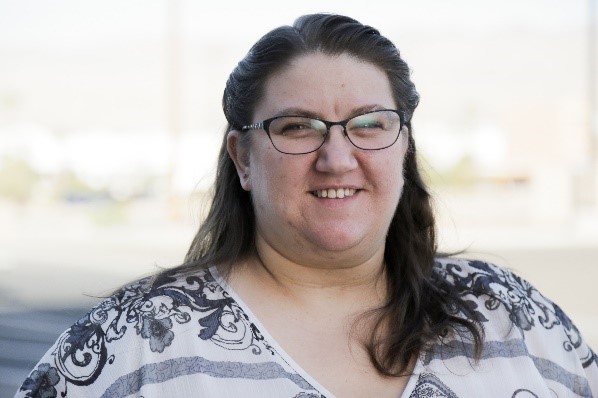 Danielle Holloway is a Team Lead Navigator with the Supportive Services for Veteran Families (SSVF) program. After teaching for 10 years in a rural community, she found that she was being called to do something more. Once she entered the nonprofit sector in workforce development, she began helping veterans find permanent, stable housing. In her free time, she enjoys travelling, trying new things and learning about different cultures.