Shari never wanted to be a single mother, and now she was facing the reality of being the single mother of five young children. She was in her third trimester of pregnancy and living temporarily with her ex-boyfriend Jack, who was also the father of her unborn child.
Shari and Jack had dated for many years and had four children together. Although they cared deeply about each other, they were no longer a couple. Jack and Shari knew it would be difficult to parent another child as they moved forward with their own lives.
Scared and Uncertain
She had entertained the idea of adoption in her thoughts, but felt paralyzed in moving forward with a plan. She felt scared and uncertain with the thought of moving forward with any decision.
When Shari was 36 weeks pregnant, she went into premature labor and ended up at the ER. She knew the baby would be coming soon and she could no longer let fear dominate her indecision. It was at this time Shari expressed her concerns to the hospital social worker, who referred her to
Joining Hearts
.
Fears Turned to Hope
Shari called the
Joining Hearts hotline
and immediately reached a staff member. After meeting with the pregnancy counselor and learning more about the Joining Hearts program, Shari engaged in pregnancy counseling services.
Shari had many fears surrounding the idea of adoption, but after receiving education and supportive counseling, her fears turned to hope.
Shari looked at profiles of adoptive families waiting with the Joining Hearts Adoption Program and felt a strong connection with one of the couples. She asked to meet them as soon as possible, fearing she would go into labor any day.
Finding Peace
A match meeting was quickly scheduled and Shari got the opportunity to meet them and ask questions. The meeting went better than Shari had hoped and afterwards she felt confident moving forward with an adoption plan.
Shari didn't go into labor until a little over a week later, which allowed her time to continue to build a relationship with the couple she had chosen. They shared phone numbers and spent the next week getting to know each other better.
When Shari went into labor, she invited the adoptive couple to the hospital where she could observe them bonding with her newborn son. This personal choice allowed Shari to observe them as loving parents, which provided her with additional peace in her decision.
Although adoption was hard, Shari knew parenting another child would be equally as hard. By seeking services through Joining Hearts, she was empowered to make a plan she felt was best not only for her newborn son, but for her young family.
Pregnancy Counseling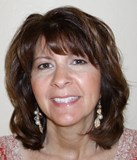 Teresa Doud is a Pregnancy Specialist at Joining Hearts. Teresa earned her Master's Degree in Social Work from the University of Illinois in Champaign/Urbana and has worked in the adoption field for 15 years. She has been providing pregnancy, parenting and adoption support services to women and families through Joining Hearts, a program of Catholic Charities Community Services, since 2011.