Erin became pregnant with her third child and immediately started thinking about what she wanted for the daughter she was carrying. Like most parents she hoped to have the opportunity to raise her child, but she had an open case with the Department of Child Safety (DCS), which created barriers. Erin's two older children had been removed by DCS and were in foster care. She didn't want this child to end up in foster care as well.
Erin knew she couldn't undo the choices she had made, but she could make a different choice for her unborn child.
Stability Through Adoption
Erin called Joining Hearts and spoke with a pregnancy specialist. Our compassionate pregnancy specialists help women and couples throughout central and northern Arizona to explore life-affirming birth options for their unexpected pregnancies. The Joining Hearts team is committed to helping women understand the facts about parenting, adoption, adoption law, birth parent rights and more to help them make the best plan for themselves and their child.
Erin was able to ask questions and share her concerns. She was surprised to learn she could choose her child's adoptive parents, meet them, and have ongoing contact after placement if she desired. She felt relieved to learn all families waiting with the Joining Hearts adoption program are financially stable, desire to adopt due to infertility, are childless or have only one child in the home, have been married at least 2 years, espouse a faith, and have had criminal background, child abuse, and fingerprints checks to ensure they can provide a safe, stable, and loving home.
Erin felt adoption would be the best option for her and her unborn daughter. It provided the stability for her daughter she was hoping for.
Adoptive Families Open to This Opportunity
Many adoptive families might be nervous about this type of opportunity, but through education provided by the Joining Hearts Adoption program, they are able to put those fears aside, knowing the birth mother is choosing adoption as an option for her child. They feel confident knowing Joining Hearts supports both adoptive families and birth parents every step of the way.
The adoptive family Erin chose started their adoptive journey by first attending an orientation meeting to learn more about adoption through Catholic Charities Joining Hearts program. Soon after they attended the required adoption education classes and completed their home study.
Both were successful professionals and had built a solid foundation for growing their family, but due to infertility, their dream of becoming parents had not yet been realized. Within 10 months of starting their adoption journey, they were matched with Erin.
Erin chose not to meet them in person but was able to get to know them through a profile letter they had written. The profile was full of pictures and information about their life, interests, occupations, and their home.
Staying true to Erin's wishes, the adoptive couple agreed to provide letters of update and pictures of the child to Erin throughout the child's life. They also offered to meet with Erin in the future, should she so desire. They pray for Erin nightly, and thank God for the blessing of their daughter.
Free Pregnancy Counseling Available 24/7
Joining Hearts Pregnancy Specialists are available 24/7 via phone or text to provide compassionate care and a listening ear to women and couples experiencing an unexpected pregnancy. Each specialist is dedicated to helping women make a life affirming plan of parenting or adoption. These services are provided free of charge. A Joining Hearts Pregnancy Specialist can be reached at 1-888-818-4445.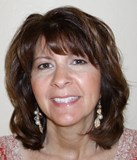 Teresa Doud is a Pregnancy Specialist at Joining Hearts. Teresa earned her Master's Degree in Social Work from the University of Illinois in Champaign/Urbana and has worked in the adoption field for 15 years. She has been providing pregnancy, parenting and adoption support services to women and families through Joining Hearts, a program of Catholic Charities Community Services, since 2011.

In her free time Teresa enjoys spending time with her husband and two adult children. Teresa and her husband enjoy attending Blues music festivals in Arizona and California throughout the year. They also enjoy relaxing at the beach in Southern California. Teresa is an animal lover and has a dog and two cats from a local animal rescue group.