Working alongside Catholic Charities staff are dedicated interns helping to do the most good. Nick and Bre, NAU students interning with the PATH (Projects for Assistance in Transition from Homelessness) program, found satisfaction and joy in helping the community's most vulnerable.
The PATH program provides case management and housing advocacy to those experiencing homelessness who have or may have a serious mental illness. Another responsibility of PATH includes outreach, where the team distributes life-sustaining supplies and connects those in need to community resources like emergency shelter.
Winter Outreach
Although much of this vital outreach is done in the daytime, the team also conducts outreach on nights when freezing temperatures put lives at risk.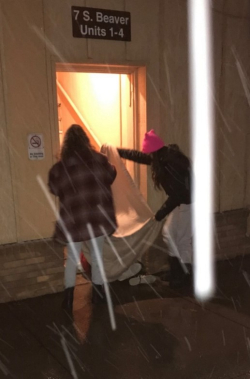 Being able to transport a person experiencing homelessness to shelter always makes for a rewarding experience. This was the case when Bre and Rick, the PATH Supervisor, set out for outreach one night at a church in downtown Flagstaff.
As the two were about to return to their truck, they heard something move behind them. To their surprise, they found a person hunched under a small archway with a thin blanket.
Lasting Impact
In talking with her, Bre and Rick realized she was trying to hide so well because she thought they were there to move her or get her in trouble. After the team explained the work that PATH does, she felt grateful for the support and care of the team on this snowy night. They then equipped her with a heavier blanket, care package, resource guide, and transportation to a hotel for three nights.
"It was such an impactful moment in outreach because it was my first time helping to get someone into a motel and it was really heartwarming to be a part of the full experience. We didn't just get her supplies, we made sure she got somewhere and had access to resources to help her out in the future," Bre recalled.
Interns Support the Community
Nick and Bre's time interning with the PATH program has provided them with memories and necessary experience that will last a lifetime. In March 2021 alone, Nick and Bre helped the team reach out to over 30 individuals.
Nick expressed that his favorite part of working with the program was "being able to do outreach and actually going out to the people and being proactive with helping them, rather than just having our services limited to our site/building."
Interning with PATH provided an enjoyable, fulfilling end to Nick and Bre's senior year. They are thankful to everyone at Catholic Charities for welcoming them, helping them, and giving them an invaluable opportunity to learn.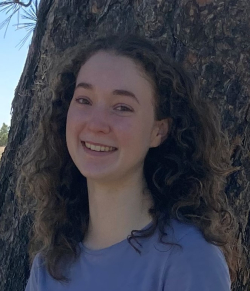 Sarah Annibal is a PATH Outreach Specialist at Catholic Charities. Sarah recently started working in the PATH program in February 2021 after interning through Northern Arizona University (NAU). She earned her bachelor's degree in Psychological Sciences at NAU later that year.
Sarah has volunteered with the Crisis Text Line and is an advocate for supporting mental health. In her free time, she also enjoys painting and spending time with loved ones.