Twice a month, Rosewood Court Affordable Housing Community partners with St. Mary's Food Bank to offer a mobile food pantry to reduce food scarcity in our community. While other mobile food pantries have ceased operations during the pandemic, the Catholic Charities team got creative to ensure residents had the food they so desperately need right now.
Residents depend on this mobile food pantry to help stretch their grocery budget. "Under the circumstances, had we not had the food pantry, a lot of our families would have gone without food for a couple of weeks," said Steven Lopez, Catholic Charities' Resident Services Specialist at Rosewood Court. "We are one of the only agencies that has continued to partner with St. Mary's for these mobile food pantries since the COVID-19 virus began to spread." Rosewood Court is one of five Housing for Hope communities, an affiliate of Catholic Charities, in the Phoenix metropolitan area.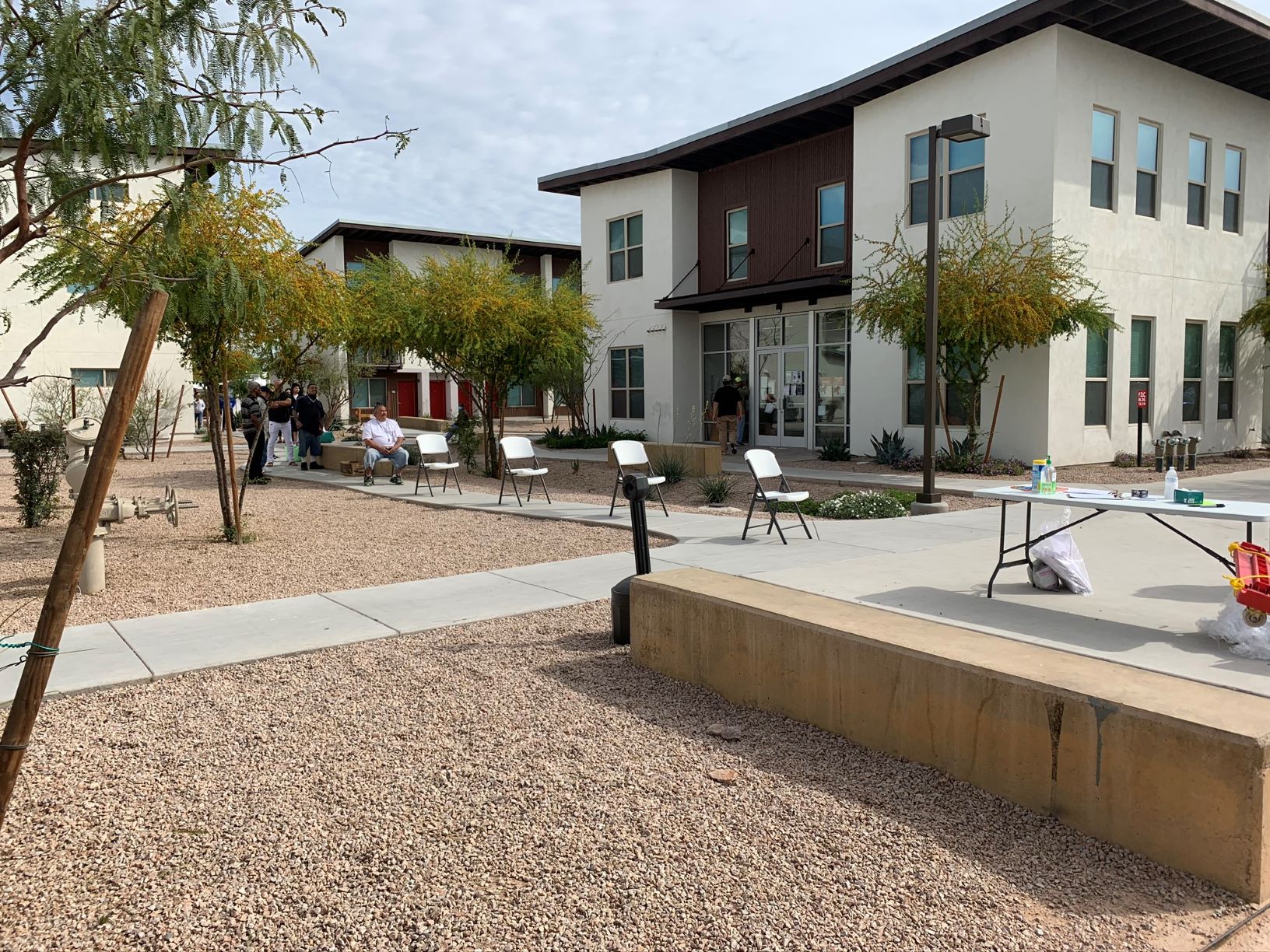 Continuing Operations
Leading up to a typical mobile food pantry, the resident services team would canvas the community to spread the word and invite residents and neighbors to the community center. Due to the COVID-19 threat, extra precautions were put in place.
This time, "we facilitated social distancing throughout the mobile pantry experience. We set up on the perimeter of the basketball court and marked off 6 feet intervals to help residents keep their distance. We also gave hand sanitizer to everyone as they arrived," said Lopez. There was no physical contact between residents and team members during the food distribution. All food went right into their bag.
Protecting At Risk Populations
New precautions were put into place to protect all residents, but special efforts went into protecting senior citizens who live in the community.
"We have 35 senior units. We sent out a notice to our senior residents," said Lopez. "They were able to put in an order for a food box. Our team and volunteers made separate food boxes for seniors that were delivered so they wouldn't be exposed to anything."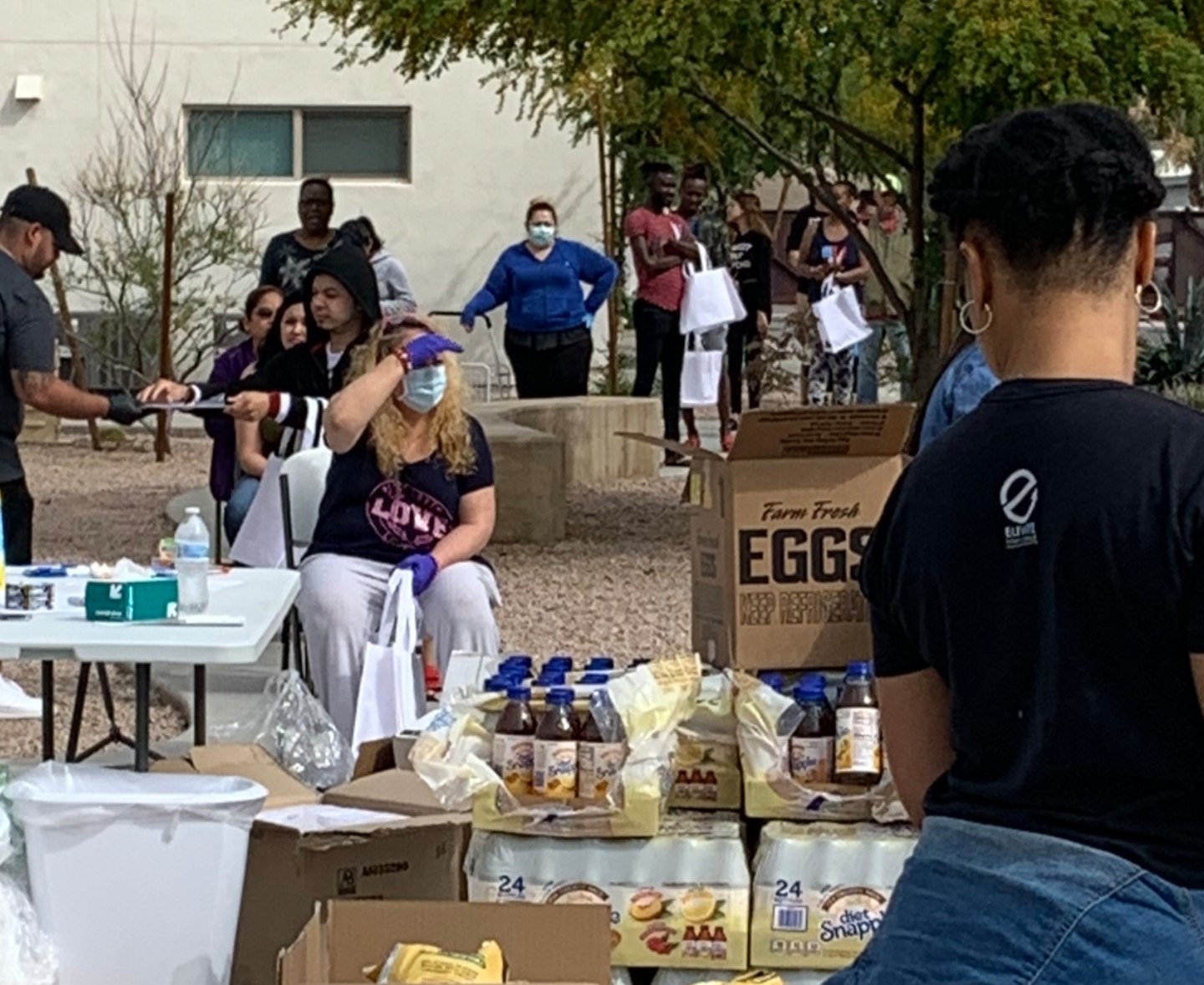 Serving the Community
This partnership with St. Mary's Food Bank serves the community beyond Rosewood Court. Neighbors are also invited to take part in the mobile food pantry. This is especially helpful for families without reliable transportation that cannot travel to other food pantries.
"Rosewood Court residents and neighboring community members always express their sincerest appreciation of what we do every time we have this event, especially in a time like this," said Gabriel Marcelo, Resident Services Specialist at Rosewood Court. "Therefore, as a team we were willing to take additional precautions and go above and beyond in order to provide this service to our community."
Lopez estimates that 150-180 individuals are served by the mobile food pantry every month. St. Mary's Food Bank provides bread, a beverage like water, tea or sports drink, packaged items like chips or popcorn and fresh produce. Produce varies based on season, but some examples include salad mixes, oranges, potatoes, tomatoes, melons and strawberries.
---
If you are interested in learning more about the mobile food pantry at Rosewood Court, contact Steven Lopez at This email address is being protected from spambots. You need JavaScript enabled to view it..
You can support our work by contributing to our COVID-19 Relief Fund.