This Veteran's Day we honor those that bravely serve our country. While we may be taking part in Veteran's Day parades or spending time with family this holiday, Michael Kpodo, Catholic Charities veteran services program manager, and his team, will be out on the streets ensuring that all veterans in northern Arizona have shelter.
"We believe every human being has the right to the basic need of housing," says Kpodo. "Then we can work on resolving other issues, such as substance abuse and mental health issues, common obstacles for our veteran population."
Finding Stability for Veterans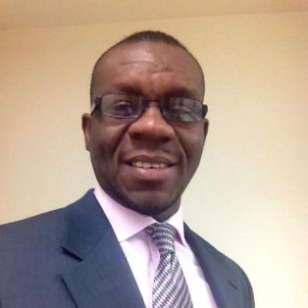 Kpodo stresses the importance of intensive case management for veterans in the program. "We must ensure that housing stability for each veteran is reasonable and achievable," he explains. The program works with veterans to help find them work or apply for disability or other resources to assist with rent responsibilities. Through temporary financial assistance, Catholic Charities veterans' services program is able to pay for up to 18 months of housing for veterans and their families.
Kpodo reports that 565 individual veterans and 958 veteran household members were served in the last year through this Catholic Charities program; 86 percent of veterans that exit the program do so into permanent housing. Unfortunately, there is a shortage of homes available to rent for veterans in northern Arizona. Veterans are competing for the same housing that ordinary families are in the market for and landlords tend to rent to ordinary families over veterans with zero or limited income.
Community Partners Help Veterans Succeed
Catholic Charities veteran services is continually on the lookout for partnering property owners and management groups to reduce the number of days that a veteran remains homeless once engaged in the program. The community can also help in raising awareness of the needs of homeless veterans and referring them to the program. Catholic Charities veterans program is also seeking volunteer assistance or any monetary donation which may qualify you to receive Foster Care Charitable Giving Tax Credit. For more information about this dollar-for-dollar tax credit please visit CatholicCharitiesAZ.org.
This month, Catholic Charities veterans services program will be taking part in the Prescott Veteran's Day Parade and will also be giving out free Thanksgiving turkeys to all veterans engaged in the program. To get involved or for more information regarding Catholic Charities Supportive Services for Veterans Families, please contact Michael Kpodo at This email address is being protected from spambots. You need JavaScript enabled to view it..