"God had his hand in the whole thing," says 65-year-old Army Veteran Ken Whitaker. "He told me it's time to quit." That moment marked the turning point for the Flagstaff resident, who after working with Catholic Charities' Veterans Services program, is now four years sober and is enjoying his first permanent residence since his childhood.
Whitaker, originally from Florida, has lived an admittedly violent and nomadic life. As a 24-year old who served in Desert Storm, he left the Army with no plan, no money and no common sense, he says.
In fact, Whitaker was arrested in his home state just one week after leaving the Army. He was drinking heavily and says he was just "plain angry and mean back then." He spent the next three decades in and out of multiple jails all over the country, moving from job to job and living in hotels paid for by his temporary construction jobs. Whitaker still doesn't really know what demons he was chasing all those years. But he describes himself as a wanderer who moved from state to state, mostly because he was constantly trying to outrun multiple outstanding felony assault warrants. And he admits that he had no desire to settle down in one place.
Through the course of his years of drinking and life of vagrancy, he managed to get married five different times. But each marriage fell apart shortly after they started because he would never put down roots anywhere and was always drinking and being arrested or chased by the police in various states.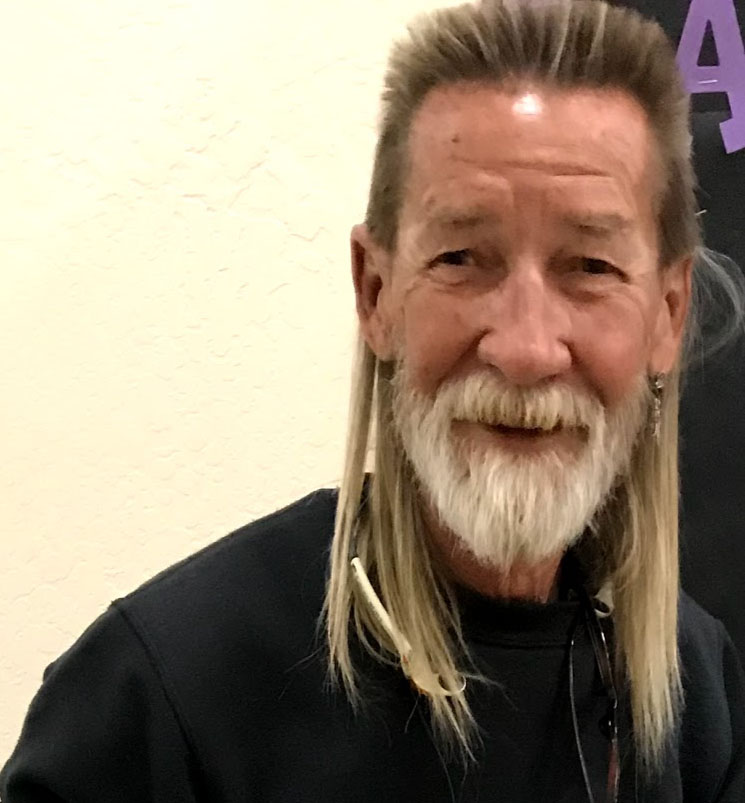 Four years ago in February, that all changed. Whitaker woke up in the Flagstaff jail, which was not a new experience for him. But this time something happened to change his future. After receiving a year of probation and working with various veterans programs, Whitaker was introduced to the Catholic Charities Veterans Services staff.
He says he doesn't know where he would be if "they had just left me alone." Flagstaff staff members as well as many of the officers from the Flagstaff Police Department — the same officers he'd been thrown in jail for fighting — and other local social services workers kept talking to Whitaker about putting down roots and changing his life. But it wasn't an easy sell. Whitaker fought them every step of the way.
He turned down the offer of affordable housing not once, but twice before he finally relented and said "yes" to the third offer of housing. He said it was as much to get "them off my back" as anything. But it was enough to change Whitaker's life and end the cycle of drunken violence.
He soon got his first stable job at the professional rodeo in town. He worked as a gateman, which he describes as fun and exciting. At the same time, he took to reading the Bible and history books.
Whitaker now has friends all over Flagstaff and is well known for his hobby of making small motorcycles out of various scrap building materials and wire. In fact, he donates his artwork to various charities, including Catholic Charities, to auction off at events to raise money. In addition, he volunteers with various veterans programs around the area. He's known all over town and has friends in the Flagstaff Police Department, Fire Department and various other city offices.
He's welcomed with open arms throughout Flagstaff and thanks his family and friends for never giving up on him. In fact, his mother kept some of his belongings every time he moved, even though Whitaker himself wanted to throw everything away, in the hopes that someday he would want a piece of his past back in his life.
What keeps him going is the thought of all those who helped him along the way. Above all, he says, "I don't want to let you (people who helped him) down because you've done so much for me."
If you or someone you know is a veteran in need of assistance with housing, paying bills, substance abuse counseling or other issues, please contact one of the Catholic Charities locations in Northern Arizona, CatholicCharitesAZ.org/veterans or 928-778-2531