When the weather turns cold up north, Richard Brust and other Catholic Charities employees brave the elements to save the lives of the homeless people who may freeze to death without shelter. From Feb. 28 through March 2, Brust reported on what he and his team found during their searches in temperatures ranging from 30F to 13F.
Feb. 28: Evening
Jonathan Duncan and I assisted three campers, all current clients, and three cats by transporting them to a motel before the storm.
March 1: Evening
Caitlyn York and I conducted outreach for five hours during wet snow conditions in Flagstaff without much success. We checked beneath more than 20 bridges, which were all completely flooded, three parks, and four pedestrian walkways. We also searched through some of the forested areas, along with the fronts, sides and backs of businesses only to discover one gentleman that was bundled in blankets and a sleeping bag that didn't want assistance with transport to a shelter or even a motel for a few nights.
The next day, we were sad to hear of a fatality that occurred due to exposure to the weather. It wasn't the same gentleman that we encountered the night before as we found him again the next night with the same result.
March 2: Day
Anthony Nelson, another Catholic Charities employee, situated two homeless clients in motels for a few nights.
Duncan, NAU intern Molly Michalowski and I situated five different individuals in motels. Two other individuals were brought to our attention. Catholic Charities volunteers found a gentleman that had been walking in the blizzard wearing shorts after being discharged from jail. They dropped him off at our office. We were going to get him situated in a motel until his mother could pick him up. She made it in to town that day. They called to thank us and informed us that they were safe.
A former Catholic Charities client contacted us about a gentleman that had been soaked and had slept behind a local business the night before after being discharged from jail. They bought him lunch and waited with him until we showed up to get him into a motel for two nights. We also gave him referrals and supplies.
March 2: Evening
Duncan and York found two individuals and situated them for two nights in a motel and gave them supplies. They also found two individuals that were sleeping outside that did not want assistance.
Andrea Leggett and I found two individuals that did not want transport to a shelter or motel, but did accept sleeping bags, blankets, socks and food. Ted Martello and his service dog Buster did not have any luck, which is a good thing meaning that most people had found shelter from the blizzard. Total reported snowfall for this night was 18 inches. This joint winter outreach effort was for close to 7 hours (9 p.m. to 4 a.m.).
Learn more about Projects for Assistance in Transition from Homelessness (PATH) program or become a monthly supporter to help up continue the life saving work of Catholic Charities.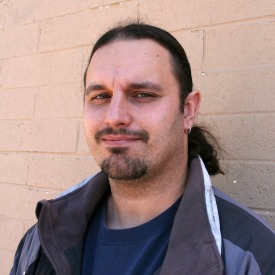 Richard "Rick" Brust began working at Catholic Charities in the PATH program since February 2010. He leads outreaches to connect with homeless people living in Northern Arizona. Rick serves on numerous committees to find solutions that will improve the lives of homeless people. Rick was homeless himself three times between 1998-2001.
Rick is also an experienced and versatile musician.