As parents, it's easy to second guess yourself. You may wonder if your child eats enough vegetables, gets enough free play, or is on track with reading and vocabulary. We don't know exactly when they'll say rabbit instead of wabbit, but the Parents as Teachers program has a lot of fun ways to encourage a love of reading in your child.
Let the Kid be the Boss
Let your kids guide you through the book. Allow your child to bounce around from page to page. You can teach them the rules of reading later.
Hand over the control to your child and let them show you what they are most interested in. Let them open random pages and point to objects. "Yes, that's a ball, a green ball. You have a red ball. We took it the park, remember?" "Milk, that's a cup of milk. You like milk." You might find clues to other books that might also catch their interest.
Judge a Book by its Cover
Take visual cues from the book cover. Ask your child about the pictures they see. Start a conversation. For example, "What do you think this book will be about? You don't know? There is a bear on the cover. I wonder if it will be about bears or do you think it will be about cars?" This can build their critical thinking skills.
Make Character Voices
The book will be more interesting if you animate the characters with special voices or sounds. Your child will love hearing you make up character's voices during story time. Using different voices will bring the pages alive and engage your kids.
Foster Curiosity
Build up a story with all its glory. When you're reaching the peak of the story, you feel it. Don't forget to make sure to end it with this million dollar question, "What do you think happens next?" This type of question gets your child's curiosity going. They can then think, invent and plot on their own. This also allows you an opportunity to check your child's comprehension and gives you a chance to fill in any gaps they miss or don't understand.
Teach Life Lessons
Don't miss the opportunity to relate the story to your child's life or lessons to be learned. "Wow, that caterpillar ate so much food, it made him sick. Remember when you ate all that candy at Halloween and your tummy didn't feel so good either." Or, "Wow, that little red hen didn't share any of her bread. What would you have done?"
---
There are many opportunities to expand your children's vocabulary and critical thinking skills when sharing a book. Books can reinforce the morals, values and concepts we teach in our homes. Try these tips at home. Grow your child's love for literacy with these creative tips.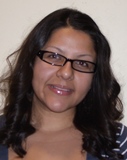 Rosa Martinez has worked at Catholic Charities for over five years as a parent educator in the Parents as Teachers program.