Camie Rasband works as the Catholic Charities housing supervisor for Coconino, Yavapai and Mohave counties, based out of the Catholic Charities Flagstaff office.
While completing housing intakes within the Coconino County jail, Rasband became inspired by the women exiting the jail's substance abuse program. Rasband says, "These women were exiting the jail into homelessness and vulnerable situations where they were likely to lose the positive momentum they had gained through the programming at the jail. Even more, these women were likely to reoffend as they were placed in vulnerable and extremely unsafe environments."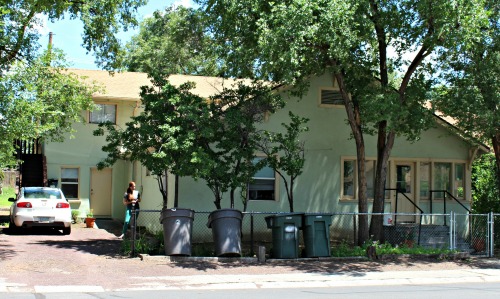 Jail Re-Entry Program
Rasband saw the opportunity to create the first-of-its-kind re-entry house where eight women can live and flourish in a safe and stable environment. With the support of Catholic Charities, the housing team was able to implement this new re-entry program in January 2016 in Flagstaff.
"It has been a wonderful addition to the Flagstaff community and has literally been a life saver to the women who live there," Rasband said. "I love working with Catholic Charities housing program. Each day is a new challenge and a new opportunity to find ways to increase the dignity and stability of the most vulnerable in our communities."
Helping the Most Vulnerable
Thanks to Rasband's vision and hard work, this year Catholic Charities will be expanding the re-entry program to Yavapai County to serve women in the community.
"I always felt a strong desire to serve those in need," said Rasband. "When I became a part of the housing team at Catholic Charities, I knew this was what I was meant to do and I became passionate about helping the most vulnerable in our communities with the basic right of safe and stable housing," said Rasband.
You can be a part of helping people in our community too! Visit the Catholic Charities employment page to learn more about our open positions and our benefits package. For more information or to become involved, please contact Catholic Charities at 602-285-1999 or This email address is being protected from spambots. You need JavaScript enabled to view it..