Life hasn't always been kind to Carlos. For years, the veteran had no home, job, or personal documents. But that all changed when he met Danielle, a case manager with Catholic Charities Veterans Services.
Danielle first met Carlos in Lake Havasu City at a booth where she was providing information for veterans and their families. They lost touch, but she was later contacted by Carlos, who was now located in Yuma, Ariz. He was ready to make a change and find stable housing.
Hope for a Brighter Future
Carlos made his way to Bullhead City, Ariz. to receive the help he needed. Excited to see him thrive, Danielle did his intake for the program and got him into emergency housing. However, she discovered that Carlos no longer had important documents like his Social Security card and driver's license, which are necessary to obtain housing and benefits. Years ago, he had changed his name, and he needed legal paperwork from the court to gain access to these documents.
So, Danielle helped Carlos take the first step in obtaining the necessary information and paying the processing fees. Soon, Carlos received his new ID card, just the first of many accomplishments for him.
Rising to the Challenge
Unfortunately, his attempt at job searching was cut short when he realized he would also need his Social Security card. With help from ARIZONA@WORK, Danielle assisted him in navigating the process of getting a new card.
However, Carlos soon found himself in the midst of another major obstacle: He had a flag on his VA record. This meant he had to have all of his interactions at the main VA office, rather than the nearby Kingman office. Luckily, Carlos was able to successfully get the flag removed from his file.
After he had conquered this challenge, things began to move quickly. He got screened for housing at the Kingman Veteran Villas and started receiving medical and mental health care.
A Fateful Day
When Carlos's Social Security card arrived in the mail, Danielle was eager to deliver it to him. As she handed him the envelope, Carlos was shaking so badly he could not open it. The grateful veteran cried tears of joy when he realized what it contained.
"What did I do to deserve this? I just don't believe it," he repeated over and over.
But that wasn't the only good news he was about to receive. The next day, Carlos got word that he would be moving into his new home by the end of the week. Once again, happy tears poured down his face.
Upon move-in day, Danielle provided him with a new bed, bedding, and other household goods. Carlos has since been approved to be a volunteer at PetSmart and was hired for a housekeeping job at a hotel.
With the help of Danielle, Carlos went from experiencing chronic homelessness and living without healthcare, to living in a brand-new house and receiving services that drastically improved his quality of life. He is proud to be an active part of his community once again.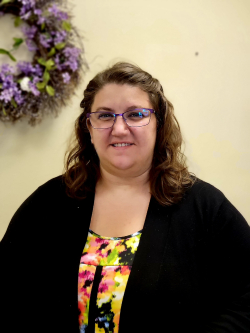 Danielle Holloway is a Team Lead Navigator with the Supportive Services for Veteran Families program with Catholic Charities. Danielle earned a bachelor's degree in Education from Black Hills State University. After teaching for 10 years in a rural community, she found that she was being called to do something more. Once she entered the nonprofit sector in workforce development, she began helping veterans find permanent stable housing. In her free time, she enjoys travelling, trying new things, and learning about different cultures.