Although Laurie White only learned of Catholic Charities a short time ago, she's felt a huge impact on her life from it.
As a woman concerned about her community, White is working toward becoming a social worker with the help of Catholic Charities.
Catholic Charities Internship
Taking online social work classes from Brescia University, White needed to find an internship as requirement for her degree. Being that her school was online, she struggled to find the right non-profit in Phoenix until she contacted Linda Tailleart, director of volunteer services at Catholic Charities.
Tailleart suggested an internship at Catholic Charities refugee resettlement program working with Patricia Gillem. Prior to becoming involved with Catholic Charities, White didn't know organizations helped to resettle refugees.
Phoenix Refugees
Since the internship began in January, White has been serving as a job developer. She works with non-Spanish speaking refugees in the program to help them prepare for employment.
She contacts each client and arranges to have interpreters available for training sessions that teach them how to find a job, identify proper interview attire, fill out applications and other skills like giving a good handshake and looking your interviewer in the eye and smiling.
"We role play the interviews, so clients are prepared and know what to expect," said White. She also works to help them gather previous work and education experience so they are ready for the application process.
Hygiene Drive
One of White's social work classes required a community project. During her internship, White learned how refugees struggling to get a job often don't have money for hygiene or cleaning products. "Imagine trying to get a job as a refugee and not having soap for bathing or washing clothes or even a toothbrush. How can you be successful?" said White.
For the project, White reached out to local churches and asked if they would be interested in holding a hygiene supply drive and learning about refugees. She found an ally at St. Rose Catholic Community.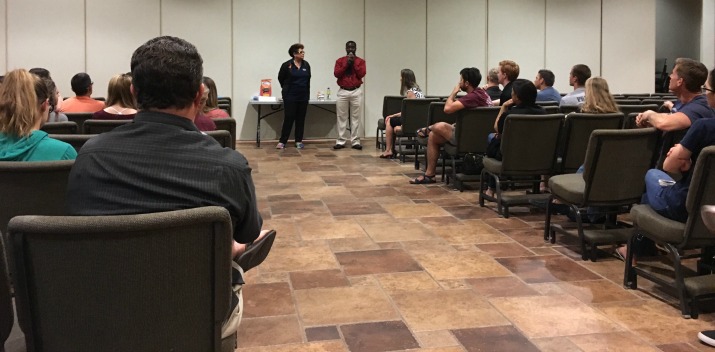 Gillem along with Samuel Ndayiragije, a former refugee from Burundi and case manager at Catholic Charities, spoke to kids at St. Rose's and taught them about life for refugees. The kids decided to help out and are collecting hygeine items.
White will continue her internship next fall with Catholic Charities. "Interning at Catholic Charities has been a wonderful opportunity for me," said White. She plans to continue working for organizations like Catholic Charities who advocate for people.
There are many ways you can help refugees living in Phoenix. Constance, a welcome specialist, volunteers to set up apartments for refugees arriving for the first time. Steve helps by teaching computer classes to refugees looking for jobs.
You can also help by becoming a monthly giver. Your ongoing support helps refugees who have escaped dangerous situations start a new life in Arizona.