"I always felt very strongly about advocating for and working with children. I just knew that it was my calling in life," remarked Desiree, a Prescott Valley foster parent of 15 years.
Even as a child, she was a dreamer. She imagined someday opening her home to children in need and the impact she could make.
Getting Started with Therapeutic Foster Care
Shortly after she got married, Desiree and her husband, Ty, saw an ad in the local newspaper for those interested in becoming foster parents and knew it was meant to be. They took the steps to get licensed and began to do Therapeutic Foster Care, which involves clinical intervention and placement of youth in specially trained foster homes that can provide assistance with mental, emotional and behavioral health needs.
Throughout their foster care journey, Desiree and Ty have cared for 23 children. It's clear that the love these kids received in Desiree's home has lasted a lifetime. All of the children she has fostered have reconnected with her at some point. She still keeps in regular contact with many of them, who are now adults.
However long she has with her placements, her goal is to show each of them the unconditional love they may have never felt before. Although she may not be the one to see their "happily ever after," she hopes she can plant the seeds for a successful future and a beautiful life.
Experiencing Foster Care's Special Moments
One of her greatest joys is seeing her kids experience special moments for the first time. Desiree loves taking the children in her care to the beach.
"That's such a positive experience, just to see them enjoy those first things that are just so wholesome and uplifting to us as people," she said.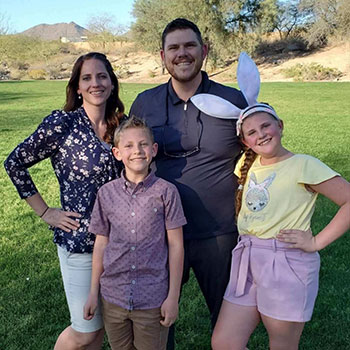 It's also the little things that remind Desiree of her passion and purpose. It's those "aha" moments when something clicks for one of her children. It's seeing them overcome their trauma and realizing the love they deserve.
In addition to having a biological son and daughter, Desiree and Ty have a now 21-year-old adopted daughter and an "unofficially" adopted daughter who is 19.
Are you interested in joining Northern Arizona foster parents like Desiree and opening your home to children in need? Learn more by visiting our Foster Care and Adoption page or view our Events Calendar to see upcoming Virtual Foster & Adoption Services Orientations.