Growing up, Irene had it all—a loving family and a healthy home. But that all changed when she was introduced to addictive substances. At just 19 years old, she left home and ran after all the wrong things.
A Dangerous Lifestyle
Irene naively entered the adult entertainment industry by the age of 24. Frequenting places like clubs and massage parlors meant Irene was a target for pimps and madams to lure her in even deeper.
It didn't take long for a pimp to get control of Irene. He dropped her off on 51st Avenue and McDowell Road in Phoenix, Ariz. to make money for him.
That night, Irene was arrested for manifestation to commit prostitution. She went to jail, unaware that she was a victim of sex trafficking. She pleaded guilty to prostitution out of shame.
A Tragedy Becomes a Second Chance
What felt like a nightmare turned out to be a blessing. When she was released from jail, Irene was required to report to Catholic Charities' DIGNITY (Developing Individual Growth and New Independence Through Yourself) Diversion program. DIGNITY helps women who have been arrested for prostitution avoid re-offending.
That first day, she was unsure of what to expect. But that changed when she met Lois, an intake specialist for the DIGNITY program. Lois sat with Irene to do her intake and said, "You are worth more than the life you are settling for."
A seed was planted in Irene's mind. She had forgotten her worth until Lois reminded her of it.
Attending the DIGNITY classes gave Irene structure, community, fellowship, and an opportunity to work on herself. Lois greeted her every week with a hug and words of encouragement.
Returning to the Life
Irene learned that she would spiral if she didn't leave this lifestyle, but couldn't stop. She had lost sight of who God had called her to be.
After years of exploitation, Irene felt empty and alone. She hit rock bottom at age 33 and got help. Even when she left and started her recovery journey, she didn't know she had been trafficked and thought she was a prostitute.
From Survivor to Advocate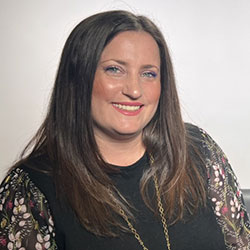 Irene's realization of her worth came to fruition. Today, she is a leader in her church and a Survivor Advocate. She is the manager of trafficking recover program, helping men ages 18-26 escape human trafficking.
Despite the pain of her past, Irene has found a purpose. She participates in street outreach to women being trafficked on 27th Avenue. Her experience has led her to become a survivor leader who helps law enforcement work with human trafficking victims.
Now, Irene is giving back to DIGNITY Diversion by sharing her story with the women who need to hear it most. Because sometimes it only takes one person to plant the idea that there's more to life than living in the darkness.
Become a Supporter of DIGNITY Diversion
If you'd like to help women who have been victims of sex trafficking, donating online or providing needed items through our Amazon Charity List are great ways to show your support.