When a big December storm hit Flagstaff, Ariz., Catholic Charities staff headed out into the snow seeking the homeless—and they found people living outside in freezing temperatures.
Life-Saving Shelter
On Dec. 31, 2014, we showed pictures of our staff seeking the homeless in popular places, like Flagstaff forests. That day, Catholic Charities Projects for Assistance in Transition from Homelessness (PATH) team member found two tents. People were inside, and one of the tents had a broken zipper, so it was impossible to keep the cold air out.
Richard Brust, PATH team member, took the man with the broken tent to Sunshine Rescue Mission where he found shelter and a warm meal. PATH also gave the man a new weather-proof tent to keep him warm, when temperatures allowed him to return to living outside.
"We network closely with other programs and agencies," said Brust. "By working together, we are able to meet more needs and help more people."
The other tent housed a couple. The PATH team placed them in a local hotel for a few days until the temperatures warmed up. Now PATH is working closely with the couple to help them to transition out of being homeless. Some of the support includes staff helping them to drop off mail, getting them bus passes, transporting them for food box pickups, and transporting them for laundry.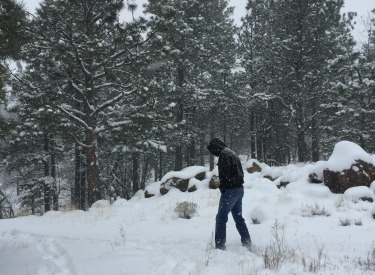 Helping Homeless People and Pets
For every story that is shared, there are many stories that go untold. PATH assisted 20 other people and their pets to find shelter that day, 14 were placed in hotels and six stayed in shelters. The following day, PATH assisted three more people found sleeping outdoors.
"You have to be willing to trudge through the mud, walk through the desserts and forests, crawl under bridges and in tunnels to find people in need," said Brust.
The help doesn't stop with finding and getting them shelter. Catholic Charities provides ongoing support and case management to help homeless people find employment or treatment plans.
"The best part of the job is getting someone into a house that you have been working with for a long time," said Brust.
PATH's outreach efforts include all of Coconino County, primarily focusing on the areas in and around Flagstaff, Williams and Page. Catholic Charities also does homeless outreach in parts of Yavapai County, including the areas surrounding Cottonwood, Camp Verde and Sedona.
Your Support Saves Lives
Your continued support of Catholic Charities ensures that we have the resources available to make a difference every day. Your support saves lives. Thanks to you and PATH, several people survived that end-of-the-year storm.