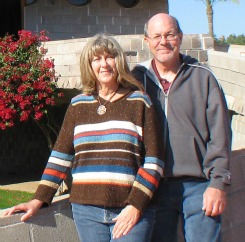 In Arizona, mothers who are considering adoption cannot sign a consent form until their newborn is at least 72 hours old. During this transitional period, Craig and Carol Trudgen, Catholic Charities volunteers since 2011, take temporary guardianship of the baby until a permanent plan is in place.
Their home is equipped at all times with everything a baby might need: diapers, wipes, formula, car seat and more. "They are on standby with us 24 hours a day, seven days a week," said Jennifer Harris, lead adoption specialist at Catholic Charities, "We couldn't do the program without them."
Hospital to Home
Carol and Craig take the visiting newborns to their first pediatrician visit. Carol documents every moment of these babies' lives with photographs and journaling. She provides this information to the birth parents and adoptive parents.
Carol insists on being at the hospital when the baby is discharged so that she can hear the discharge instructions directly from the hospital staff. She has even been known to travel to Flagstaff, a six-hour round trip, to pick up a baby from the hospital and meet the birth mother.
Carol's Compassion
Birth parents are welcome to visit the baby at the Trudgen's home. Carol not only cares for the babies, but also for the birth parents. On one occasion, Carol took the birth mother to get professional photos with her baby, so she would always have a keepsake of their time together.
Adoptive parents are also welcomed into the Trudgen's home to begin the bonding process. These new parents are mentored and given plenty of tips as they get experience their parenting firsts.
Parenting 101
Adam and Sylvia adopted their daughter, Ellie in 2013. "Craig and Carol were wonderful to us. We became parents in their home," said Sylvia.
She recalls Carol chuckling as they stumbled through their first diaper changes. Adam recalls how Craig and Carol made them feel at home from the very first visit.
"It was like they were our parents," Adam said. "They were walking us through our first time with a little kid ... they were simultaneously watching Ellie but also preparing us and helping us think about things we had never thought about before." This includes information about installing the car seat correctly.
To date, the Trudgen's have lovingly cared for more than a dozen children while they waited for their forever families.
Interested in becoming a Catholic Charities volunteer? View our available opportunities in working with refugees, foster care, veterans, homeless, domestic violence, sex trafficking and more.