Imagine feeling alone, scared and having nowhere to turn. Thanks to a nationwide initiative through the United States Conference of Catholic Bishops (USCCB) and the support of local parishes, many of these moms will now have a system of support.
Walking with Moms in Need increases support for pregnant and parenting mothers facing difficulties and lacking a support network. Local parishes are invited to evaluate and partner with local programs and services, including the Joining Hearts program and foster care through Catholic Charities Community Services, and support mothers in need.
"The lack of support mothers feel from friends, families, partners, and society, as they discover they carry a baby in their womb or finds herself in troubled moments, is such a heavy pressure for them in some cases. As we encounter a mom in need who wants to share their story with us, we must try to leave our opinions, our ideas and our advice to the side, for just a brief moment and truly listen," said Dulce Valdez, Parish and Community Engagement Supervisor.
Local Parishes Helped Catholic Charities programs
Several local parishes collected donations for Catholic Charities foster care programs that support foster families caring for children who have been removed from their homes, usually due to abuse or neglect.
Brigid Wagner, Program Director at Catholic Charities in Cottonwood was invited to speak at the local Walking with Moms in Need group at Immaculate Conception Catholic Parish. Wagner shared about Catholic Charities programs and how the parish can connect with the team at Catholic Charities to serve moms in need. "They were a wonderful, sweet group and I hope to continue to connect with them."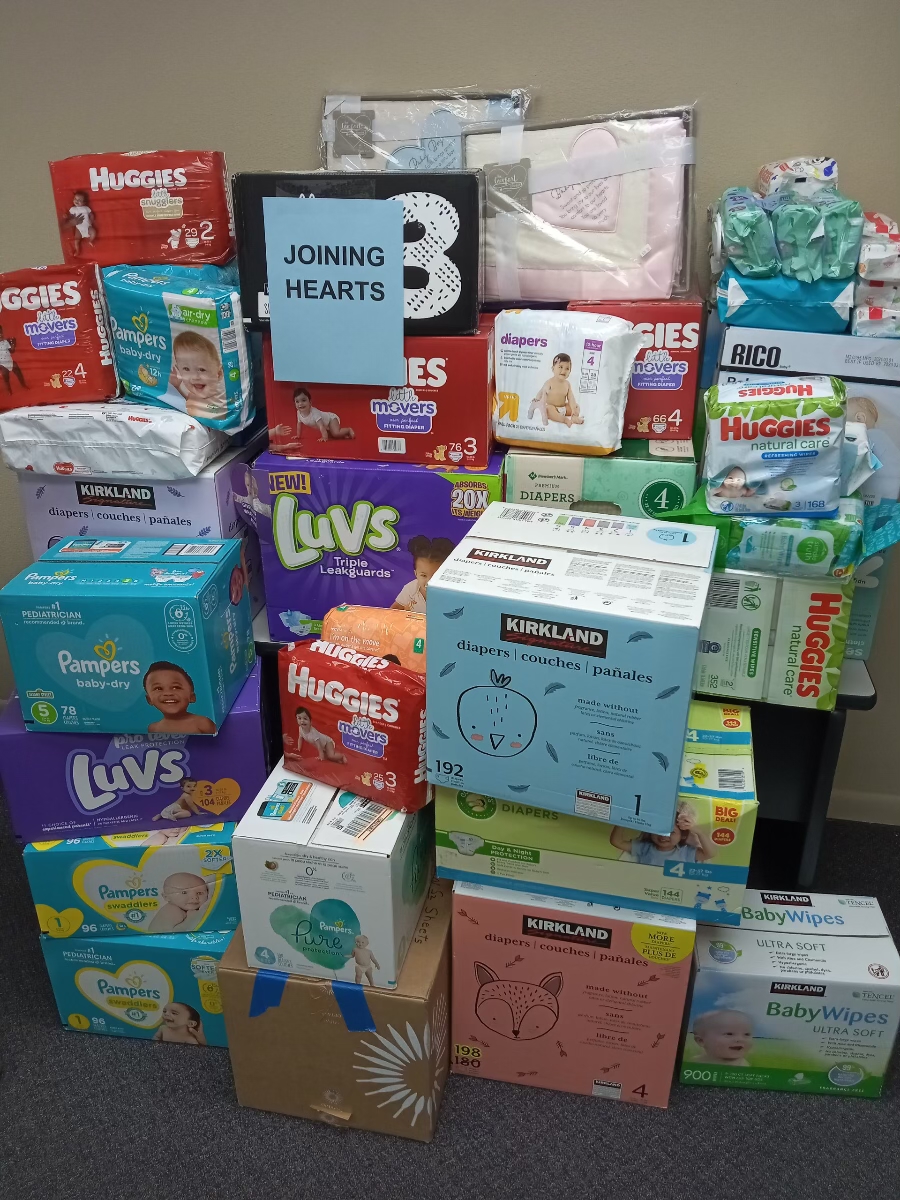 Serving Moms in Need
Parishes also supported our Joining Hearts program, which operates a pregnancy hot line for women who are experiencing an unexpected pregnancy. Compassionate pregnancy counselors help women make a life affirming plan to parent or place their child for adoption.
Teresa Doud, Joining Hearts Pregnancy Specialist works with women who call the Joining Hearts hotline. "Many women come to us full of fear…fear of parenting…fear of adoption…fear of the unknown. The goal of our services is to replace fear with hope through education and support." Parishes that support Joining Hearts also support these women.
Catholic Charities would like to thank the following parishes for their generosity:
St. Helen Catholic Church in Glendale
Our Lady of Joy Roman Catholic Church in Carefree
St. Patrick Catholic Community in Scottsdale
St. Andrew the Apostle Catholic Church in Chandler
St. Francis Xavier Catholic Church in Phoenix
Franciscan Renewal Center in Scottsdale
St. Bernadette Catholic Church in Scottsdale
Immaculate Conception Catholic Church in Cottonwood
Getting Involved and Helping Moms in Need
If you would like to help women in crisis, please consider participating in the following ways:
• Make a donation to Joining Hearts or Foster Care or donate items on our Amazon Charity List.
• Invite our programs to come and present to your group
• Send us first names of moms in need and our Prayer Champions will pray for them. Send names to This email address is being protected from spambots. You need JavaScript enabled to view it..
• Share our Joining Hearts number with others and on social media. Women experiencing and unexpected pregnancy can call or text 888-818-4445 for resources and support.
Parishes who would like to connect with a Catholic Charities program can contact Dulce Valdez at This email address is being protected from spambots. You need JavaScript enabled to view it..