TI Fitness, located in Gilbert, Ariz., has been a supporter of My Sisters' Place for years. "Everyone can relate to a situation or a person who has been affected by domestic violence," said Terrance Johnson, co-owner. "We want to be able to help out."
They began hosting 5k runs as a fundraiser but those were often limited by weather and participants schedules. "We wanted to do something repeatable, that we could do year after year and not worry about interference from weather conditions," said Johnson. Their solution was Own Your Trainer Week.
During Own Your Trainer Week, anyone can challenge the trainer to do difficult workouts, for a price. A sign-up sheet in the lobby records specific workouts and the trainers assigned to them with the pledge amounts.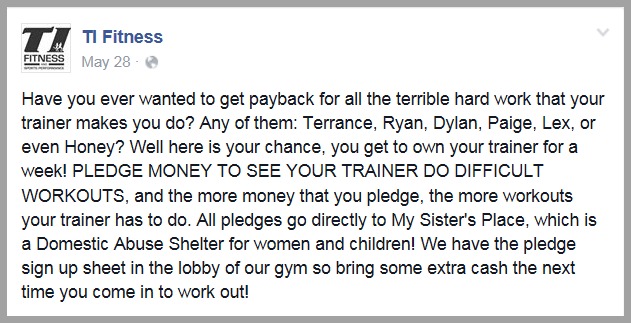 TI Fitness issued a challenge on their Facebook page encouraging people to participate in the project to earn money for My Sisters' Place. They also posted videos of the trainers completing their exercises throughout the week.
The trainers had a week to compete the workouts which included pushups, burpees, burpee pull-ups, wall sits, squat jumps and running. The trainers were really put to the test. All of the trainers participated but the most notable performances went to Johnson who had to complete 114 burpee pull-ups and Dylan Flannery who completed more than 100 minutes of wall sits.
"Our members and staff are really big on community. We wanted to find a local organization to support," said Johnson. "When a lot of people get together with a common goal, great things can happen."
In total, the trainers raised $1000 for My Sisters' Place.
Trainer Paige Fleischmann was equally passionate about shedding light on domestic violence awareness saying, "A lot of times people don't open their mouths about it."
Fleischmann was challenged to do five different exercises by her clients. "I think we were all pushed a little harder in our challenges knowing that the money that was donated was going to such a good cause," said Fleischmann. "Some of the exercises that we were challenged to do were not easy either, but because we were doing them for a greater purpose, there was definitely more motivation to not give up."
We are thankful for local businesses like TI Fitness that are committed to making our communities better. If your company would like to get involved in a fundraiser to help one of our program, please contact Wendy Owens at This email address is being protected from spambots. You need JavaScript enabled to view it. or call 602-285-1999.