A generous grant from the Downtown Chandler Community Foundation provided funding for laptops to be used by the residents of My Sisters' Place, a domestic violence shelter run by Catholic Charities.
The shelter provides a safe haven for women like "Meredith" and her children, who fled abuse this year. She had no belongings and feared for her life as well as for her children.
Dawn Curtis, a case worker at My Sisters' Place, helps women like Meredith start over. As women and children can only stay in the shelter for 120 days, Curtis immediately sets women on a path to find a permanent safe home.
Until recently, Curtis filled out her client's online forms for housing or would have clients go to the library to use computers. It was difficult and time consuming, for both her and the women she was helping. This is why she's so excited about the Downtown Chandler Community Foundation grant for new computers.
"The laptops make a huge difference, especially in the summer," said Curtis. "Now, our clients don't have to go offsite with their children to check on their benefits or apply for jobs."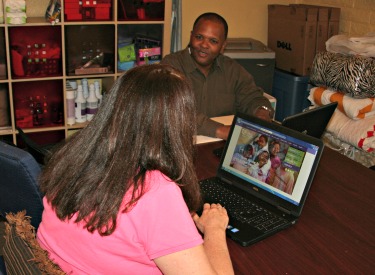 The laptops also help with other partnerships, like classes taught by Bruce Relf of Breaking Barriers. Relf specializes in helping people find jobs, so they can get housing and live independently.
"When I first started working with residents at My Sisters' Place, there were no computers to do workforce development or job searches," Relf said. "Onsite computer access in today's world is necessary. Job opportunities present themselves quickly, the laptops give clients the opportunity to connect with employers in a timely manner."
In addition to finding jobs, residents can also search for housing, daycare and find other support services.
Committed to building a better life for herself and her children, Meredith started attended the weekly workshops organized by Relf and worked on her resume and job search skills.
The availability of computers onsite helped her to create her resume and apply for suitable positions online. Her efforts paid off, she landed a customer service job and has started working. Now, with an employed status, she'll qualify for housing and be on her way to finding a new home for her family.
The gift from Downtown Chandler Community Foundation will create many opportunities for women like Meredith who need a fresh start - and we thank them for their generosity.
If you would also like to be a part of helping My Sisters' Place continue its great work in helping women and children, please consider giving a monthly gift to Catholic Charities. Your generosity will be a miracle to a vulnerable family.