Those who work at nonprofits have a sense of empathy and compassion that doesn't cease when they clock out for the day. The desire to serve others is part of who they are and is engrained in their everyday lives. This couldn't be more accurate for Kristy Enricco, Catholic Charities Property Specialist at Verde Villas Apartments in Phoenix.
As a property specialist, Kristy helps tenants of affordable housing communities developed by Housing for Hope, an affiliate of Catholic Charities, access community resources such as food pantries and medical equipment loan programs to ensure they stay safe, healthy and maintain a steady income.
A tenant at Verde Villas, one of seven affordable housing communities, recently passed away. He had only one family member listed as an emergency contact. Kristy soon discovered that the emergency contact was the tenant's brother, who had already died a few months earlier.
An Unexpected Discovery Changes Everything
Kristy was planning to donate the tenant's personal items to St. Theresa Parish, which had helped him access food and home-care visits. However, Kristy stopped in her tracks when she saw some beautifully crafted guitars lying among the other items. It seemed to her that these guitars had a history yet to be told.
Kristy knew she had to try one last time to locate a family member of the tenant. She scoured social media, and her search turned up just one name—the tenant's sister.
An Opportunity to Reconnect with the Past
It turns out that the sister was living in Florida and had lost contact with her brother a few years ago. Kristy let her know about the guitars and noted that there were still many unopened boxes.
She learned that the guitars she had found were truly priceless. The tenant had hand-made them, and they were of immense sentimental value to the family.
Kristy had no idea that her actions would give the family the opportunity to regain memories they had forgotten. They had lost much of their memorabilia in a house fire and were hoping to find family photos with his belongings.
A Family Is Forever Grateful
The tenant's family sent his niece Lori to look through and pack up his personal items, as his sister was not well enough to travel. After this visit, Lori sent Kristy the following card.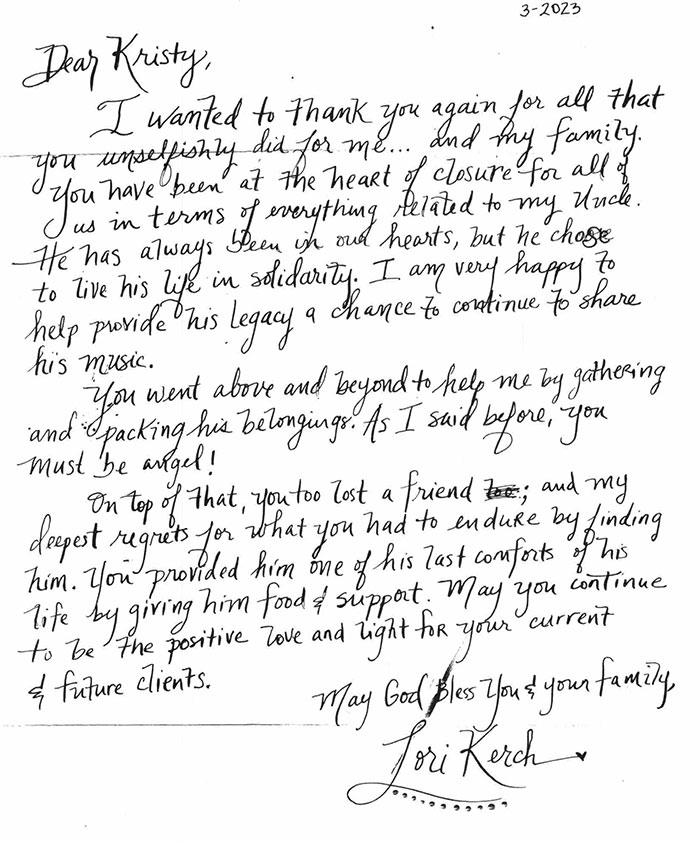 This certainly isn't the first time Kristy has gone above and beyond. In fact, tenants and other staff members have long admired her for treating them with the same kindness she would her own family. It's people like Kristy who transform Verde Villas from a place to live into a home.
Housing for Hope, an affiliate of Catholic Charities, partners with local developers and state and federal funders to develop communities that are affordable, safe, and convenient. Catholic Charities provides on-site assistance through our resident services team, who are dedicated to helping residents stay happy, healthy and housed.