Water, food and shelter are basic needs for all people. Meeting those basic needs can be difficult for persons with extremely low income and/or mental illness.
Catholic Charities works to meet the needs of the community's most vulnerable through multiple programs, including the Laurel Tree Apartment Community in Phoenix.
Affordable Housing
Laurel Tree is an affordable housing community operated by Housing for Hope, an affiliate of Catholic Charities Community Services. It was developed in collaboration with Thomas Development Co. and rents are income based.
Chatholic Charities staff provide services to the residents of Laurel Tree including, but not limited to, after school activities, art and exercise classes, referrals and resources. Eighteen of the apartments are designated for individuals with serious mental illness who receive case management services through Mercy Maricopa.
Resident Service Specialist, Eunice Allen, created a food pantry to further serve the needs of the Laurel Tree community. She envisioned fresh, healthy choices available onsite. However, timing was unfortunate. The COVID-19 pandemic left food banks and other service organizations overwhelmed to meet the demand.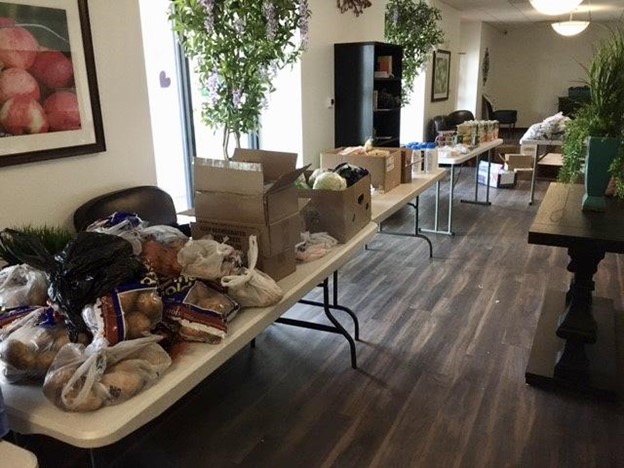 Local First Arizona
Allen soon learned about Local First Arizona through a partner at Pure Heart Church. Local First Arizona set up an initiative to provide food from Arizona farms to food pantries and nonprofit organizations.
A grant application was required to participate, so Allen got to work. With a fairly new apartment community, no grant writing experience, and a big idea, Allen was apprehensive to receive approval.
She was pleasantly surprised when Tanya Charkravarty of Local First Arizona called with exciting news. Laurel Tree Community Apartment Community was chosen as a grant recipient!
From Farm to Food Pantry
Local farms were organized to deliver produce directly to Laurel Tree on distribution day. The produce was already bagged and ready to distribute, which was a huge help for the single staffed food pantry.

Fresh produce was delivered from September through November 2020. In addition, it created opportunities for Allen to create relationships with farms and other partners who will be able to assist Laurel Tree with future produce needs.
Allen and the entire Catholic Charities team extends heartfelt thanks to Local First Arizona, Project Roots Farms, Green on Purpose, and AREA Farms for working together to meet basic needs of the residents of Laurel Tree Apartment Community.
If you would like to participate or donate to the Laurel Tree food pantry, please reach out to Eunice Allen, Resident Service Specialist, at This email address is being protected from spambots. You need JavaScript enabled to view it..