Mission and Vision
Since 1933, Catholic Charities has been committed to helping our community's most vulnerable with solutions that permanently improve lives. Over the years, the breadth of our work has grown and so has our vision. We affirm the worth and dignity of all to realize their God-given potential.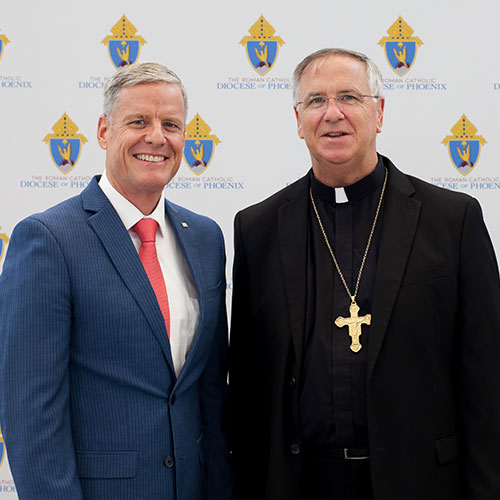 More about our work
We aspire to be the human service agency of choice through quality services, innovation, parish engagement and community partnerships. As one of the major social service agencies of the Diocese of Phoenix, we are guided by our faith-based roots. In fact, if you need prayer, we would be happy to pray for you. Fill out this form to share your requests with us.
Prayer Intention Card
We have offices throughout Central and Northern Arizona, our programs and services vary by location.
Each year, we reach thousands of people without regard to race, ethnicity, economic status, or religious affiliation, to...
Shelter the homeless and abused
Protect and nurture children
Strengthen and reunify families
Welcome and assist refugees
Letter from Paul Mulligan
Catholic Charities President and CEO
An expert in the law once asked, "Teacher, what must I do to inherit eternal life?" The Teacher replied, "Love God…and love your neighbor as yourself," to which the scholar questioned back, "And who is my neighbor?"

At that, Jesus launched into one of his most well-known stories, the Parable of the Good Samaritan. (Gospel of Luke, Ch. 10, v. 25-37)

You may know how the story goes…

How there was a man walking a dangerous road who was then beaten, robbed and left for dead. And how along that road there first came a priest, who upon seeing the man lying there half-dead, crossed to the other side of the road and ventured on to serve God in the Temple. Next came a Levite journeying by who saw the man, and then did likewise.

Finally, there appeared a Samaritan man, but when he came upon the dying man, he was moved with compassion and began to minister to him, bind his wounds, and even provide financial support. In short, he affirmed the man's dignity by taking responsibility for his most basic human needs: food, shelter, respite, love.

When Jesus then asked, "Which of these three was neighbor to the man?" the expert in the law replied, "The one who had mercy on him."
Jesus challenges us now as he challenged the scholar then, commanding: "Go and do likewise."

We look to this story as an inspiration and an aspiration for our agency:


The Good Samaritan walked alongside his brother, on a path to permanent solutions.
At Catholic Charities, we too walk alongside all of those we serve, on their path to permanent solutions.
And while the message and connection to our mission may seem pretty obvious – serve those in crisis, at-risk or vulnerable, tend to their needs – there is a treasure deeper still that awaits.
Read More