Arizona State University's (ASU) Sun Devil 100 again welcomes nearly the entire Catholic Charities Community Services leadership team to the class of 2022! Five of seven members of the executive team are ASU Alumni and continue to demonstrate their impact in state 48.
The Sun Devil spirit fuels the team as they lead the agency's more than 400 employees throughout seven counties in Arizona through a pandemic, immigration and refugee crises, and a severe shortage of affordable housing; these amazing leaders continue the long history of Catholic Charities walking alongside the most vulnerable.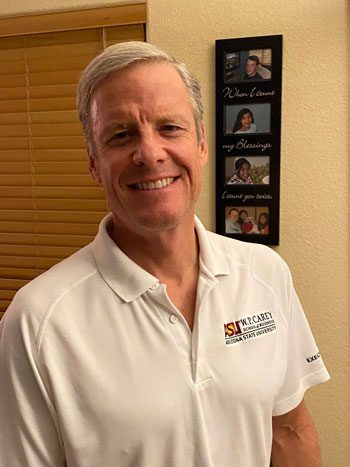 "My Executive MBA helped sharpen my business acumen and challenged me to go beyond traditional profit & loss statements and balance sheets to the larger view of overall business effectiveness, all while staying true to those we serve," said President & CEO Paul Mulligan.
Catholic Charities servant leadership culture is built on trust, collaboration and focuses on maintaining the dignity of all. Executive team members Paul Mulligan, President and CEO ('15 MBA); Steve Capobres, Vice President of Business Development and Executive Director of affiliate agency Housing for Hope ('84 B.S. & '91 MPA); Catherine Peterson, Executive Director, Northern Arizona ('85 MSW); CarrieLynn Mascaro, Vice President of Central Arizona Programs and Services ('97 B.S.); and Sara Wilson, Vice President of Human Resources ('06 B.S.) say the quality education and the New American University model provided them the foundation on which to grow their careers while maintaining a mission of serving the most vulnerable.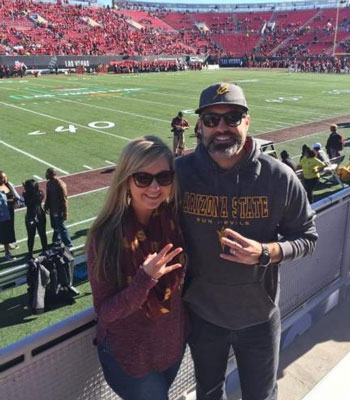 Newly promoted to Vice President of Human Resources, Sara Wilson and her husband John are both Sun Devil alumni and enjoy attending football games.
A culture of trust and collaboration is infused throughout the organization by these leaders, and employees are proud to be advocates for homeless individuals and families, foster children and parents, survivors of domestic violence and sex trafficking, veterans, children in early education, and more.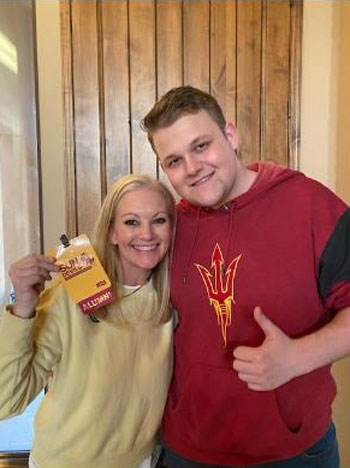 Continuing the tradition as Sun Devils, CarrieLynn Mascaro and her ASU student son Anthony show off their team spirit.
With their undying Sun Devil spirit, the Catholic Charities Leadership Team continues to inspire compassion and empathy in employees while using a solid foundation of business experience and knowledge to lead the organization with innovation into the future.
The special Sun Devil 100 honoree celebration takes place at ASU on April 28, 2022. For more information on Catholic Charities and our more than 20 programs, visit us at CatholicCharitiesAZ.org.