Over the past 25 years, North Star Youth Partnership, a program of Catholic Charities, has established a strong network of volunteers and partnerships with schools, youth-serving organizations, and businesses in central and northern Arizona to provide youth with high quality programming.
These individuals and partnerships enrich and improve the lives of youth in a myriad of ways, and their dedication makes programs and communities stronger. Since 1997, nearly 1,100 volunteers have engaged with North Star providing over 11,000 hours of service.
Community Youth Advocate Award
For the past 15 years, North Star has presented its annual Community Youth Advocate of the Year Award to recognize the outstanding contributions made by individuals who partner with the program and positively impact youth.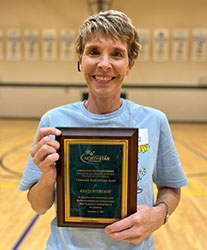 Krista Witherow, Creative Director of Sparklight Advertising in Prescott, was selected as the recipient of this year's annual Community Youth Advocate Award in recognition of her involvement in youth development programs and creating awareness about the dangers of substance abuse in Yavapai County.
Krista has used her creative talents to produce public service announcements and videos for North Star programs. She has been a volunteer for North Star's Girl Talk afterschool program, Teen Maze, and Girls & Sports Day for several years.
"Growing up we didn't have mentorship programs. I think it's really important to help our youth, even when they're little all the way through high school, to give them support and motivation to be the best they can be. I am very honored to receive this award," Krista said.
Lasting Impact for Yavapai County Students
Krista's creativity and dedication to service have made her an important part of MATFORCE, Yavapai County's Substance Abuse Coalition and one of North Star's long-time partners.
"For the past 15 years Krista has assisted with the creation of multiple TV spots and video productions for MATFORCE to assist us in reaching our goal of reducing drug use not only in Yavapai County, but statewide. Educating our youth is a vital part of these video campaigns," said Merilee Fowler, MATFORCE Executive Director.
North Star is grateful for the volunteers and partnerships in the communities it serves. "Krista's dedication to enriching the lives of youth and her creative efforts embodies the epitome of a visionary and true community youth advocate", said Diane DeLong, North Star Senior Program Manager.