As children grow up, they realize that their world is bigger than they thought. They begin to see that they are part of a community and that their actions can either help or hurt that community. That's why North Star Youth Partnership, a program of Catholic Charities, provides recreational, leadership, and service-learning opportunities to help youth be confident, healthy, and active in their communities.
North Star's Gilbert Youth Task Force helps students identify the major issues that affect teens in their school and community. It allows them to take a leadership role and develop solutions to empower other teens to make healthy, informed decisions.
Students Look to the Future with Footsteps Project
This year, teens in the Gilbert Youth Task Force came up with a project called Footsteps. This project challenged the teens to think about their future and how simple decisions they make can change the course of their life.
North Star Health Educator Lori Regnier encouraged the students to take control of their own life stories. She asked them how they saw their lives turning out five, 10, or 15 years from now. She challenged them to think of what successes and achievements they'd like to accomplish moving into adulthood.
The teens then traced both of their feet on paper and wrote on them positive steps they could take to achieve their goals and the future they had imagined. They also included the struggles that could stop them in their path or move them backward.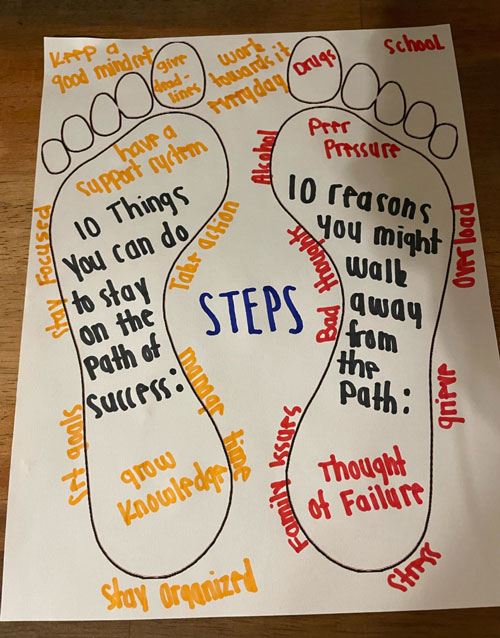 Making an Impact at School
Once they were done, the teens posted their footsteps around the class and hallways for all to see. The project served as a creative way to show their peers that they experience the same day-to-day pressures that come along with decision-making.
North Star projects like Footsteps are more than just typical school assignments. They are part of a toolkit that empowers youth to be caring, kind, and confident adults for years to come. If you'd like to support North Star's mission, learn more about our program or consider making a donation.