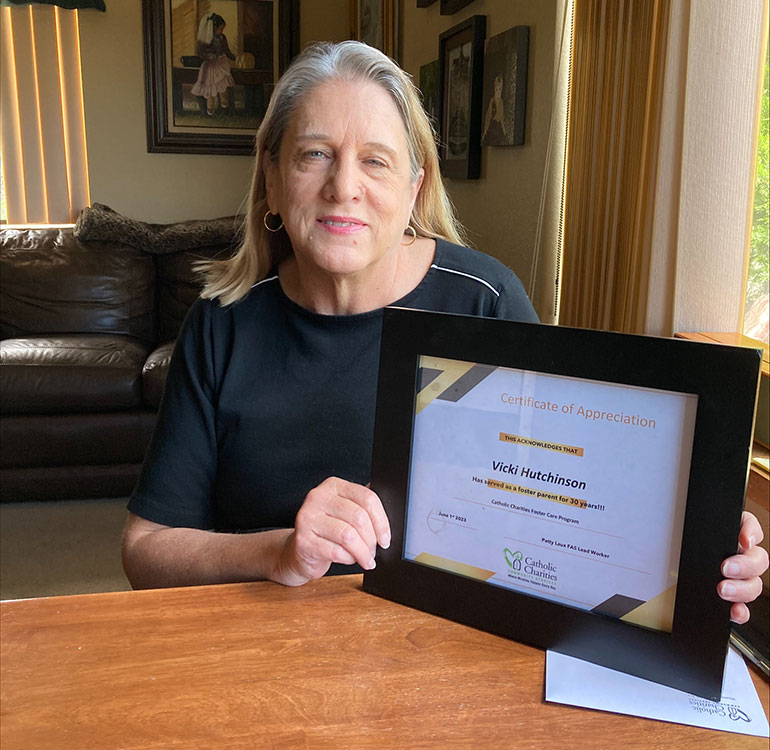 Being a foster parent requires much more than just an open home and heart. Foster parents must possess a strong sense of patience, empathy, and the ability to work well with others.
A Northern Arizona woman named Vicki found her calling in foster care over 30 years ago. She first realized that caring for children was her passion when she worked in her church nursery as a teen. After marrying her husband, who is a pastor, she began speaking with other families who did foster care and decided to start this journey through the Catholic Charities Foster Care and Adoption program.
Although three decades have passed since Vicki first became a foster parent, one thing never changes. Every morning, she looks forward to getting up and helping her children.
Supporting Children in Dealing with Trauma
Foster children often come from situations where they were not able to rely on adults to keep them safe. Vicki knows firsthand what it's like to help a child work through trauma and learn not to take it personally when a child reacts due to trauma.
"I think one of the biggest things I've learned through foster care is how trauma affects all of us and especially these kids who come from hard circumstances. I have learned so much over the years about how to help them with the trauma and understanding how that trauma affects their behaviors because of what they've gone through," says Vicki.
Helping Strengthen Families
Vicki's life has been enhanced not only by her foster children but by their biological parents as well. Supporting and communicating with biological families is not always easy, but Vicki readily embraces it. Building these relationships has given Vicki a better understanding of the children she's fostered and led to better reunification outcomes.
"I love it when I get to have a lot of contact with the birth parents because seeing them grow and become the parents they need to be and getting their kids back is the most rewarding thing I've experienced in this journey," Vicki adds.
Family Is Forever
Even when the children have left her home, they are still a part of Vicki's family. She sends them birthday cards and uses Facebook to stay connected with them.
Vicki advises anyone looking to become a foster parent to develop a strong toolkit of skills. She says that completing training related to trauma is a must. All children experience trauma, and foster parents need to be educated on this topic.
If you resonate with Vicki's story and are interested in becoming a foster parent in Arizona, check out our Foster Care and Adoption page to learn more about the requirements and the different types of foster care.