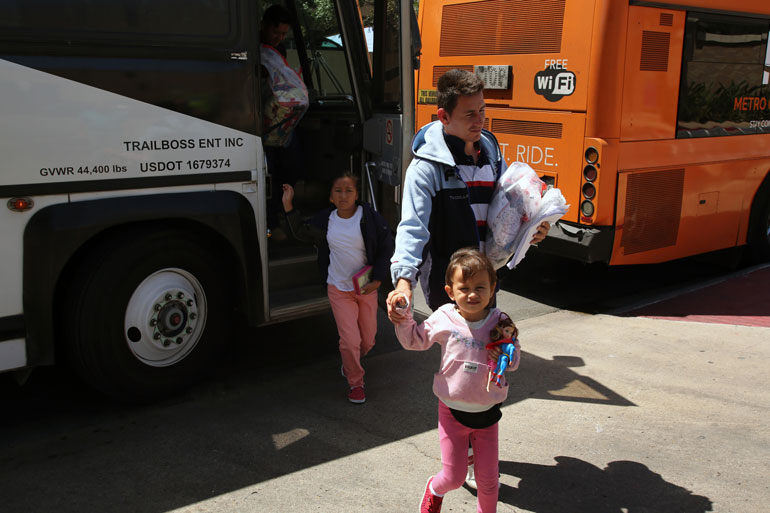 Catholic Charities Community Services and our community partners need your help during this humanitarian crisis with Asylum Seeking Families. Families from South America are fleeing prosecution among other hardships, seeking a better life, and local churches and nonprofits are being called to help.

Since October of 2018, thousands of vulnerable families visited Arizona for a night or two while they are on their way to reunite with their families in other states In the meantime, they need immediate shelter, food, clothing and other necessities for themselves and their children after being released from Immigration and Customs Enforcement (ICE) in locations throughout the southwest.

Let us remind ourselves of how the holy family, Mary, Joseph and Jesus were seeking a better life away from prosecution and safety as well. This is where we can all come together and help our brothers and sisters in Christ.
See the letter from our CEO to our parishes encouraging assistance.
What Are Catholic Social Teachings?
Our agency lives out in service guided by our Catholic Social Teachings: Life and Dignity of the Human Being, Call to Family, Community and Participation, Rights and Responsibilities, Option for the Poor and Vulnerable, The Dignity of Work and the Rights of Workers, Solidarity, and Care for God's Creation.

As we welcome the stranger and act upon the model of the Good Samaritan, these teachings remind us of our obligation as Catholics and who we share the common good with.
What We Can Do Now:
Pray for the families
Call Phoenix Restoration Project at 602-442-9634, if you can host families to receive guidance, support and training and/or to donate to these efforts.
Call St. Vincent de Paul Day Relief Center at 602-266-4483 to volunteer and/or donate.
Call Alliance of Christian Leaders of the East Valley at 480-645-8894 or 480-495-1609 to help churches who are hosting families overnight with donations and/or to volunteer.
Add our bulletin announcement in your newsletters to bring awareness and encourage prayers and donations.
Call Catholic Community Services in Yuma at 928-580-4968 to support with donations.
Family Unity…
Catholic Charities Community Services has been serving refugees and immigrants for many years. With our Refugee Services, Unaccompanied Minor Foster Care and Familias Unidas Immigration Program, we believe in family unity. Your help to continue our work to those who have been granted refugee status, as well as foster families to help unaccompanied minors who go through the U.S Department of Health and Human Services and are assigned to our program.
See the presentation by community faith leaders who are leading the efforts to assist asylum seekers.