Educators agree that reading to children and access to books is an early predictor of lifelong learning and success. What does that mean for children who do not have access to books due to homelessness or other challenges?
Kids Need to Read
Kids Need to Read is a national literacy organization, that works to create a culture of reading for children by providing inspiring books to programs across the United States, especially those serving disadvantaged children.
Recently, Kids Need to Read provided Catholic Charities with 2,225 new books in English and Spanish, as well as Highlight Magazines and Spanish High Fives Magazines! This donation was valued at almost $35,000!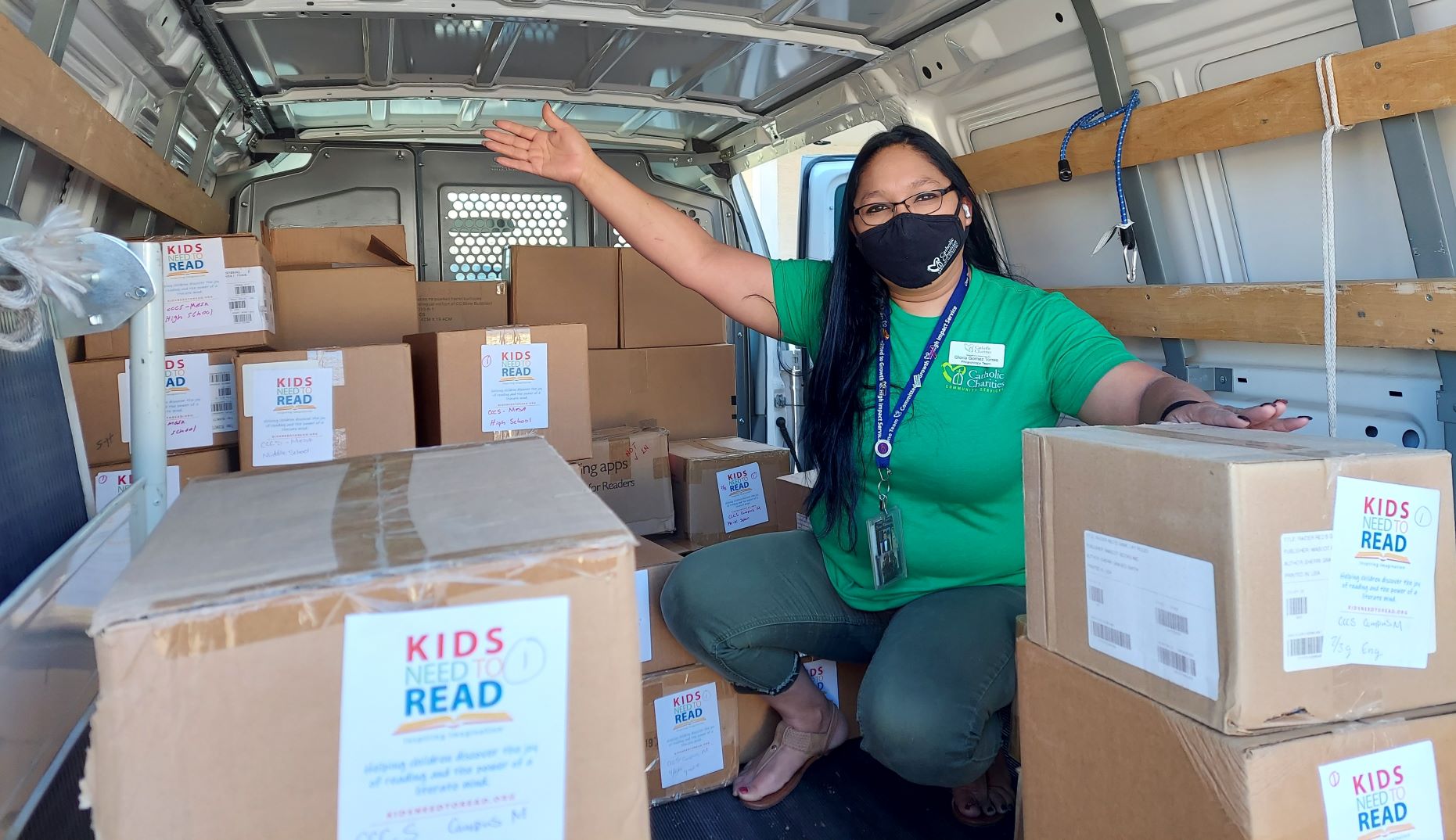 Catholic Charities Distributes Books
The Catholic Charities team was excited to receive these books and made plans to distribute them throughout our programs in central and northern Arizona. Our resident services teams who work with residents at our affordable housing communities created a fun grab-and-go event for families to coincide with Read Across America.
Erin Spano, resident services specialist at Ironwood Village Apartments, coordinated a particularly memorable event for families. Kids were able to choose several books on their own, then take a tote bag that was donated by Ruben Gonzalez from UnitedHealthcare Community Plan. Spano had gathered donations of candy, chips, a health shake and shaker, craft kits, Lego sets, and activity pads throughout the year to include in this grab and go event.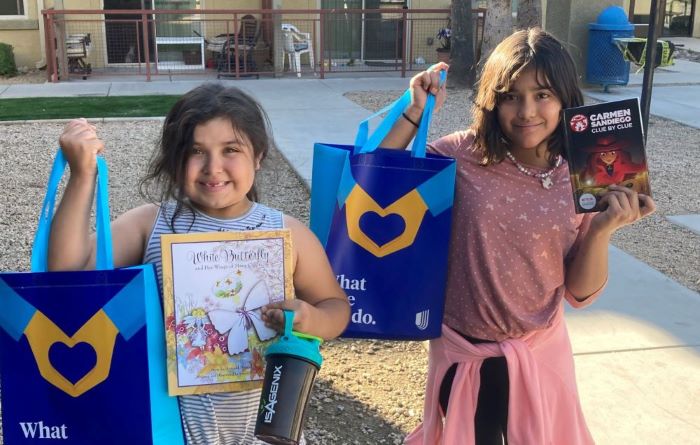 Spano said, "The kids were excited to see that there were tables full of free items just for them! Most kids' experience with books comes from checking them out from libraries or receiving them second-hand. The simple gift of being able to pick several brand-new books that they could also keep was such a joyful experience, the snacks and toys they also received ended up being just a bonus. Many of the kids even ran to share the news with their friends so they too could be blessed!"
Reading is Good for the Whole Family
Children in our Parents As Teachers program, foster care program, and Unaccompanied Minor program also received new books and magazines. Sandra Makrias, program manager in the Parents as Teachers program is grateful for this book donation. Makrias said, "The families in our program will be so excited to receive their new books and continue the important work of growing young readers!"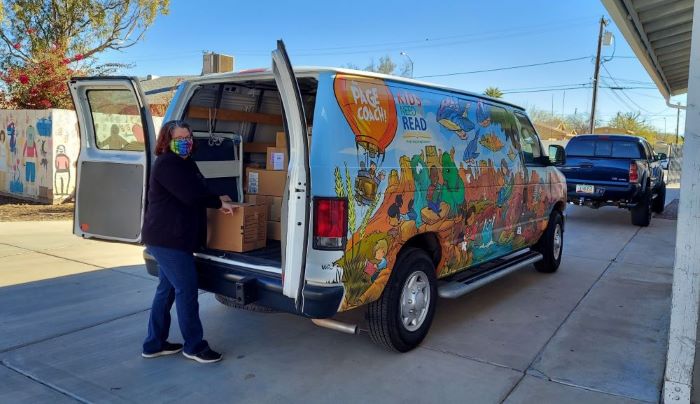 The team at Westside Head Start will be providing books to families at an upcoming community event. "Our clients are always very appreciative of receiving books," said Natasha Neal, Head Start team member, "providing books helps us increase the awareness of how important reading is to support language and literacy development." Neal understands the importance of early literacy and the role Head Start plays. Her children attended Head Start several years ago.
Books are also being delivered to My Sisters' Place, Catholic Charities' domestic violence shelter as well as the Bullhead City Homeless Shelter. Both shelters serve families in crisis. Often, families arrive at these shelters with little to no personal belongings. These books will be some of the few personal possessions these children have.
Wendy Owens, Catholic Charities Resource Development Manager, knows how important these books are to the families we serve. "Families who participate in our programs often do not have the resources for books and magazines; these books will be shared and treasured by our little learners."