Catholic Charities' Juniper House in Flagstaff provides a safe haven for up to 8 women who have previously been incarcerated. Residents typically do not have a stable and supportive home to go to following their release from jail and need help to get back on their feet. Juniper House is not a traditional sober house; rather the program empowers residents to become self-sufficient by providing support and resources that allow them to maintain their recovery, find employment and ultimately stable housing.
Juniper House is one of four Catholic Charities Community Re-Entry homes in Northern Arizona.
Collaboration is Key
From Phoenix to Flagstaff, community partnerships helped ensure that Juniper House got a much-needed remodel. Thanks to a grant from the City of Flagstaff, the home received many upgrades, including fresh paint, new flooring and insulation, and a new HVAC system. The renovations also help with sustainability of the home so that Catholic Charities is able to continue serving clients for years to come in a safe and secure manner.
GCU CityServe & Local Volunteers Help Meet the Need
Following the renovation, Grand Canyon University's CityServe generously donated over $19,000 worth of brand-new furniture to Juniper House, including shelving, couches and a kitchen table. CityServe works with national retailers and suppliers to distribute products, primarily household goods, through local churches and faith-based organizations. Their goal is to meet the need, build relationships and transform lives.
"We are so grateful for the partnership with GCU CityServe and the incredible outreach they provided to ensure Juniper House was equipped with new furniture. Their donation provides joy and warmth to such an important space," said Shannon Hill, Volunteer & Community Engagement Manager at Catholic Charities, "We couldn't have moved and assembled the new furniture without support from our seminarians and Back2Basics volunteers. It truly was all hands on deck."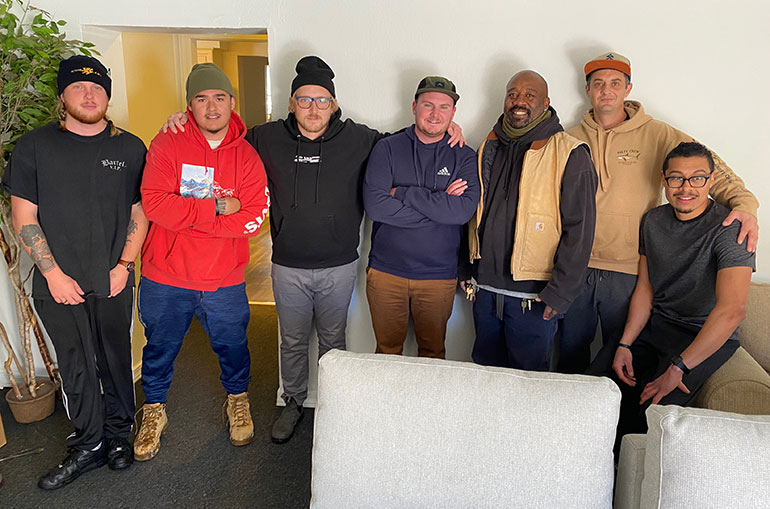 Volunteers from Back2Basics, a Flagstaff-based outdoor adventure recovery program that has been serving Catholic Charities housing communities regularly for many years, assisted with removing old furniture and setting up new furniture.
Juniper House Residents are Grateful for Updates
Alexia, a Juniper House resident who has lived in the home for over a year, said, "It looks a lot better. It's brighter. Before it was cold and with the new heating, it's much warmer. The floors and the bathrooms look so much better. It's wonderful, beautiful."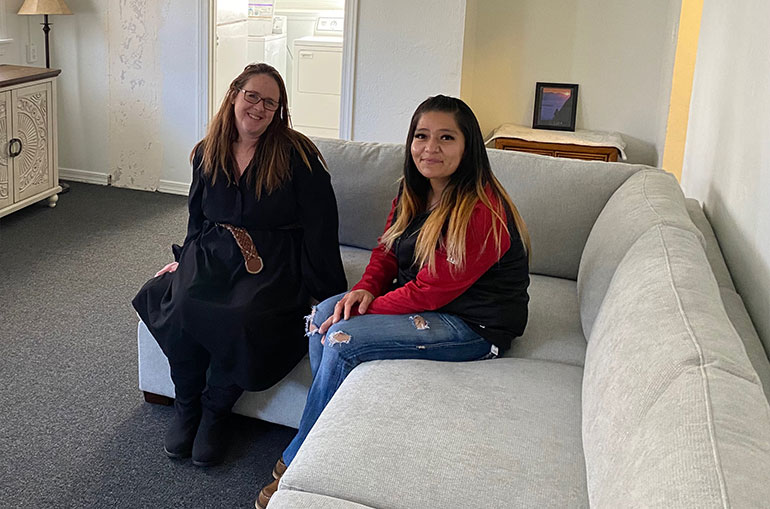 At Catholic Charities we are grateful for community partnerships, volunteers and funding sources that help make our important work possible. Thanks to such groups coming together, we are able to provide a continuum of care and support for people like Brianne throughout Northern Arizona and the entire state.