Bullhead City Office
1594 N. Oatman Rd, Bullhead City, AZ 86442
Phone: 928-758-4872
Fax: 928-763-2062
Business Hours:
Monday: 8:00 a.m. to 5:00 p.m.
Tuesday: 8:00 a.m. to 5:00 p.m.
Wednesday: 8:00 a.m. to 5:00 p.m.
Thursday: 8:00 a.m. to 5:00 p.m.
Friday: 8:00 a.m. to 5:00 p.m.
Please call our phone number during business hours to connect to services. Our hours may change depending on staff availability.

If you have any questions, feel free to send an email using the form provided.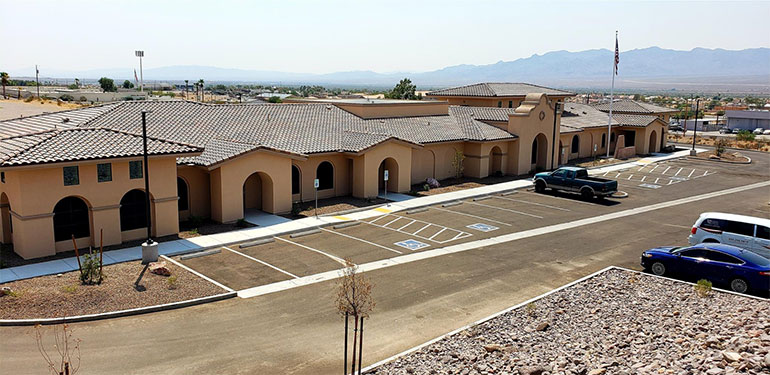 About
Serving Bullhead City and the Tri- State Area
Catholic Charities Community Services opened its first office in Bullhead City in 2016. Driven to reach more people, the Legacy Foundation Christine Stamper Center for Help & Hope opened in 2021 to expand services and provide emergency housing and serve as a day resource center and an outreach center for the tri- state area.
Bullhead City is located on the beautiful Colorado River. This family-oriented city enjoys year-round sunshine and clear skies. Tourists and locals alike enjoy watersports, views of the Black Mountain Range, desert off-roading and endless outdoor activities.
Our Mohave County programs and services are focused on providing dignity for individuals and families who need help to reach stability.
BHC Stories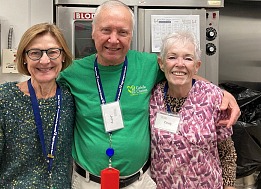 Volunteers are an indispensable part of the work that goes on at the…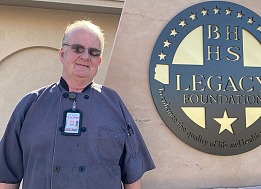 John Teeples is a chef for the Legacy Foundation Christine Stamper Center…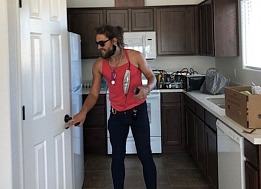 "His struggles to find his place in society have been difficult. I'm so…
Volunteer Opportunities
Are you looking for a way to give back? We have ongoing volunteer opportunities! Our dedicated volunteers make a big impact! Current volunteer opportunities include office and clerical work and shelter and kitchen helpers. If you are interested in volunteering, please use the contact form to contact our team.
Grocery Loyalty Program
You can help Catholic Charities to continue its work by shopping at your local Kroger! Smith's Inspiring Donations program makes fundraising easy by donating to local organizations based on the shopping you do every day. Once you link your Card to an organization, all you have to do is shop at Smith's and swipe your Shopper's Card.
Support Bullhead City
You can give items to directly help the people we serve by shopping our Amazon Charity Lists. Simply choose a program that speaks to your heart, click the Charity List, add items to your cart, and check out. Those items will be shipped directly to our programs. Please include your contact information on the gift receipt so we can thank you for your gift.
Keep Your Tax Credit Local
The State of Arizona allows you to claim tax credits for donations to non-profit organizations that support foster children and families and provide programs that impact those struggling in our communities. We know it's important to keep your tax dollars in your community!
You can receive a dollar-for-dollar Arizona tax credit for your donation to Catholic Charities and stack it with other types of tax credits, up to $500 individually or $1,000 if filed jointly. You can choose the city or program you want to receive the tax credit, or simply select "Where Needed Most."