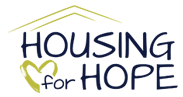 FOR IMMEDIATE RELEASE
HOUSING FOR HOPE AND THOMAS DEVELOPMENT CO. OFFICIALLY OPEN LAUREL TREE AFFORDABLE HOUSING APARTMENT COMMUNITY, FEB. 27
PHOENIX, Ariz. (Feb. 14, 2020): In its ongoing commitment to address the need for affordable housing, Housing for Hope, an affiliate of Catholic Charities Community Services, and Thomas Development Co. will officially open the 70-unit Laurel Tree Apartment Community with a Ribbon-Cutting Ceremony from 4 – 4:30 p.m. and an Open House from 4:30 – 6:30pm on Thursday, Feb. 27.
Located at 1825 W. Northern Avenue, Laurel Tree Apartment Community is the fifth affordable housing community operated by Housing for Hope and is the second development collaboration with Thomas Development Co. It is estimated that Arizona needs at least 100,000 affordable apartments or houses.
Catholic Charities' staff will provide resident services that include afterschool children's activities and groups, art and exercise classes, and referrals and resources, among other programs. Eighteen of the apartments will be designated for individuals with serious mental illnesses who will be case managed by Mercy Maricopa.
"There is no question that there is a tremendous need for affordable housing in the Phoenix metro area and meeting that challenge is among our highest priorities," said Catholic Charities President and CEO Paul Mulligan.
Apartments range from one-bedroom, one-bath units between 580 and 598 square feet to two-bedroom, one-bath units between 849 and 910 square feet and three-bedroom, two-bath apartments between 999 and 1,267 square feet. Rents are income based for qualified individuals and range from $547 to $1,137 and include water, trash and sewer services. The property is managed by Biltmore Properties.
Amenities include community rooms, elevators, barbecue areas, security cameras, two on-site laundry rooms and a playground and picnic area.
The Laurel Tree Apartment Community grand-opening celebration will feature guest speakers and a ribbon-cutting ceremony from 4-4:30 p.m. followed by guided apartment tours, food and prize drawings until 6:30 p.m. RSVPs are recommended by contacting Angie Ferguison at This email address is being protected from spambots. You need JavaScript enabled to view it..
About Catholic Charities
Founded in 1933, Catholic Charities provides care for the vulnerable of all faiths in central and northern Arizona through programs in foster care, early education, veteran services, refugee resettlement, and homeless outreach. Housing for Hope, a separate 501c3, is an affiliate of Catholic Charities and provides affordable housing. Learn more by visiting www.catholiccharitiesaz.org or www.housingforhopeAZ.org. Social connections include www.facebook.com/CatholicCharitiesAZ and twitter.com/CCArizona.
Contact: Jean Christofferson
Catholic Charities Community Services
602-650-4847