With today's ease of access to the internet and social media, teens are inundated with sexual images and messages. As a result, they may feel pressured to engage in sexual activity because they think all of their peers are. This can result in poor decision-making that leads to serious consequences for teens.
Empowering Teens with Age-Appropriate Information
Age-appropriate, factual sexual education is key to helping youth make informed decisions and decreasing the risk of teen pregnancy and sexually transmitted diseases (STDs). Although teen pregnancy is at a historic low, there is still progress to be made. There are a myriad of programs addressing this issue including North Star Youth Partnership, a program of Catholic Charities.
North Star's Sexual Risk Avoidance Education (SRAE) program teaches students about teen pregnancy, STDs, healthy relationships and boundaries, and avoidance of risk-taking behaviors related to social media, drugs and alcohol. The SRAE program also teaches teens how to set goals and empowers them with the information they need to live a healthy life.
"The teens love our classes. Most of them are actively engaged in each lesson and are excited when we are there. They let us know they are grateful to be in our classes and will use the information they learned from us," said Cristy Leonard, Health Education Supervisor.
Making Accurate Sexual Education Accessible
The SRAE program's health educators are highly trained and teach the curricula to teens in middle and high school via public, private and charter schools. The program is free of charge, ensuring all students have access to medically accurate sexual education. Parent permission is required, and parents can view the curricula before classes begin.
"North Star provides a light in the darkness encouraging our teens to set higher goals and understand they deserve the best," added Cristy Leonard.
For more information on North Star's SRAE program and how schools and youth serving groups can participate, contact Cristy Leonard, Health Education Supervisor at 480-620-3707 or This email address is being protected from spambots. You need JavaScript enabled to view it..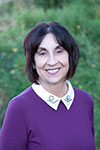 Diane DeLong is the Sr. Program Manager of North Star Youth Partnership. She started her journey with Catholic Charities over 20 years ago.