As teachers, Jesse and her husband Adam were always familiar with the great need for foster parents throughout Arizona. They were raised in a community that valued faith and action, so they knew they wanted to become foster parents even before they had biological children.
A Faithful Calling to Foster Care
Jesse and Adam became licensed foster parents in 2017, knowing that they wanted to adopt. Being of the Catholic faith, family played a central role in their lives. Their first placement didn't stay long, but they held out hope that they would find the missing piece of their forever family.
Then, they got the call they'd been waiting for. There was a 19-month-old girl, Teaghan, who had been removed from her home with her two older sisters who were placed in a different foster home. This placement was perfect, as Jesse knew she wanted her oldest biological child to stay the oldest.
Around the same time, Teaghan's brother, Memphis, was born. He came to Jesse and Adam straight from the hospital and stayed with them for five days, until his grandfather stepped in to parent him. At this time, Teaghan was doing visits with her two older sisters and biological family.
The Goal of Reunification
After about a year, it was decided that Teaghan could go home to her biological family. In June 2019, Jesse and her family said goodbye. They were heartbroken but understood that reunification was the goal and wanted the best for their foster daughter.
Jesse and Adam were concerned about the stability of Teaghan's home. "I was on edge for six months. We didn't hear anything," added Jesse.
The family got a call on Good Friday of 2020, Teaghan and her three siblings were again removed from their home. Jesse and Adam welcomed all four siblings into their home. They knew they were not prepared to take the older sisters long-term, but the sisters stayed with the family until they were placed into another foster home.
Soon, Jesse and her family learned that the older sisters might be separated. Teaghan's oldest sister was significantly older and needed space to heal from the trauma she had experienced. The other sister, Nova, however, maintained a strong bond with Teaghan.
A Family Made Whole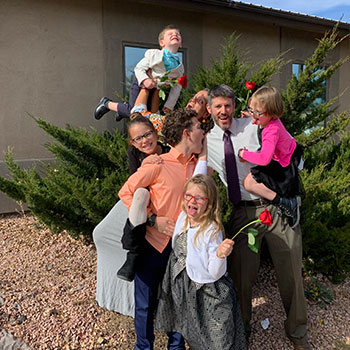 In April 2021, Nova moved into Jesse and Adam's home. The family left on a summer road trip in May, which was the perfect opportunity for them to get to know Nova and find their rhythm as a family.
After much anticipation, Jesse and Adam finalized their adoption of Teaghan, Memphis and Nova on November 17, 2021. "It changed everything and changed nothing. You know this is the relationship that you've chosen, that God's giving you," said Jesse.
Despite the setbacks her family and adoptive children have endured, the journey has been both inspiring and humbling for Jesse. She feels grateful to have licensing workers who have supported her so fully.
More than 13,000 children in Arizona need a loving place to call home. If you're interested in becoming a miracle to a foster child in Northern Arizona, visit our Foster Care & Adoption page to learn more about the process.