---
‍May is Foster Care Awareness Month! At Catholic Charities, we are honored to have multiple programs throughout Arizona to help children find safety, stability and love. There are many ways to grow your family and help children, and we are there to support you along the way. Learn more about our foster care and adoption programs.
---
Lacey Reunites With Her Siblings Through Adoption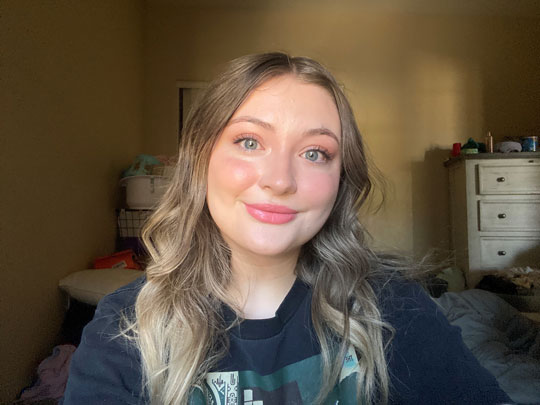 As a young child, Lacey was in and out of foster care. Then one day she realized she and her siblings wouldn't be returning home. The idea of being separated was terrifying.
A foster home was located for Lacey's brother right away, but it took longer to find homes for Lacey and her sister. The foster home her brother would be going to was licensed through Catholic Charities' Foster Care and Adoption program. 
The foster parents soon found out about Lacey and her sister and immediately asked for all three siblings to be placed with them. Read more about Lacey's journey to adoption.
---
Creating Art to Keep Families Together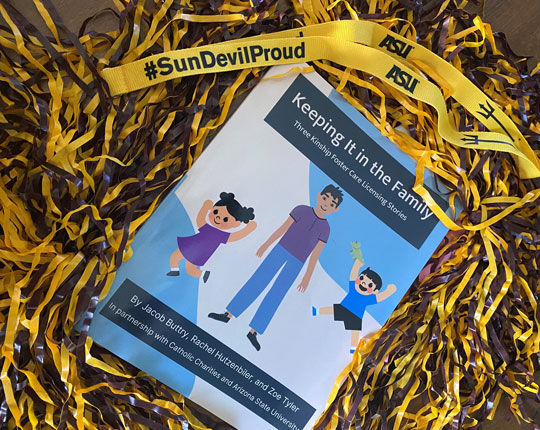 Often times it's a challenge to place children safely within their own extended families, otherwise known as kinship foster care. Catholic Charities was honored to partner with Community-Based Theatre, ASU students Jacob Buttry, Rachel Hutzenbiler, and Zoe Tyler in creating an educational storybook to facilitate discussions around kinship foster care and the licensing process. 
Keeping It in the Family has gone to print! There is also a voice-over version of the storybook and a series of creative activities for families to learn about kinship foster care, and to help reduce shame and fear among caregivers and children. Thank you, ASU student volunteers, for your help in working toward our shared goal of keeping more families together!
---
Board Members and Supporters Witness Hope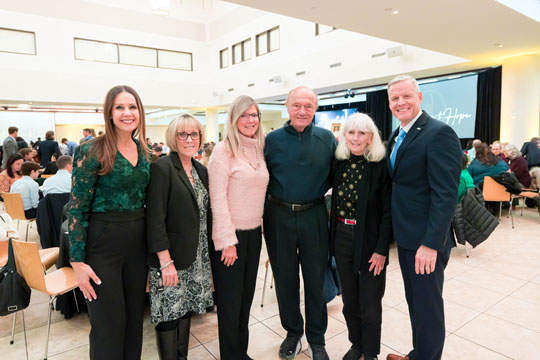 On March 2nd, Catholic Charities sponsored the Witnesses to Hope Celebration Dinner at Xavier College Preparatory. The event raised funds for The John Paul II Resource Center.
Special thanks to Marcus Sipolt, former Catholic Charities Board Chair and Emeritus Member, for underwriting the table sponsorship! Attending the dinner were Mary Permoda, Catholic Charities Board Chair; Marcell Mietus, Catholic Charities Board Member; and Wolfgang, Nancy and Suzanne Monthofer, supporters of Catholic Charities, pictured here with Paul Mulligan, Catholic Charities President and CEO.
---
Local Donors Light the World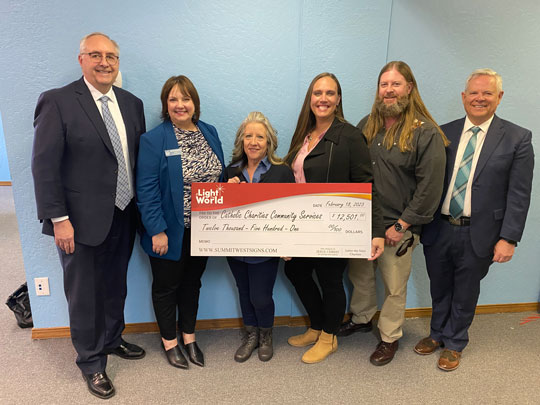 We are grateful for those who gave to the Light the World Giving Machines throughout the 2022 holiday season. Results are in and Catholic Charities raised over $12,000 from the Flagstaff machines! Funds will be used to support our Northern Arizona programs and services.
A huge thank you to The Church of Jesus Christ of Latter-day Saints who provides the machines and offers the community a unique opportunity to give to local and global charities each year.
A special thanks to President Kevin Tingey, Flagstaff West Stake; Flagstaff Mayor Becky Daggett; Aaron and Camie Rasband, Flagstaff City Leaders; and President Les Seaman, Flagstaff East Stake, pictured here presenting Sandi Flores, Catholic Charities' Northern Arizona Sr. Programs Manager, with this year's donation.
---
Westside Head Start Employee Gives Back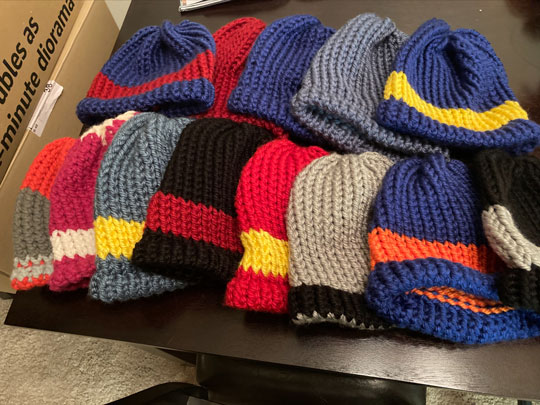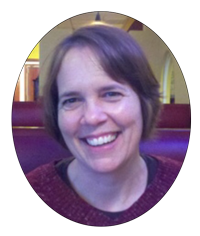 Lisa Bucey, a Westside Head Start and Early Head Start teacher at Catholic Charities, cheerfully donated hats to MANA House (Marines, Army, Navy, Air Force), its Veterans Outreach Center (VOC), the Emergency Santa program and Northern Arizona Veterans Services.
Lisa's love of knitting started about 10 years ago when she learned how to loom knit with a church group that was donating hats. She chose to donate the handmade hats to veterans to honor her family members who have served. Read more about Lisa's heartwarming story.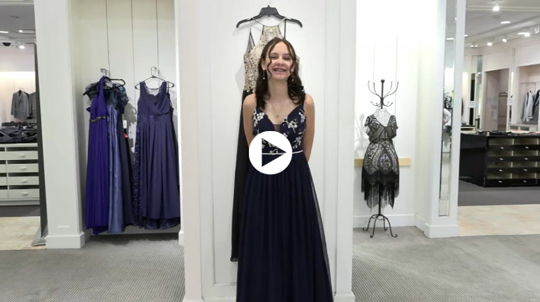 The annual event, hosted by Catholic Charities' North Star Youth Partnership (NSYP) program, empowers teens by providing free prom attire.  
This year, through the generosity of the community, NSYP collected 600 donated dresses, along with jewelry, shoes, tuxedoes, suits, ties and more! NSYP staff and nearly 50 volunteers helped make the clothing available to 206 local high school students on a first come, first-serve basis, easing the financial burden attending prom often causes. Check out this segment that appeared live on AZ 7!