Even before she began fostering, Jennifer was no stranger to opening her home to children in need. As a young mother, her teen children would bring home other kids who were struggling with their home lives and needed a safe place to stay. Jennifer's outgoing nature and background as a teacher meant that other kids and young adults often gravitated to her home.
A Passion for Foster Care
When Jennifer's biological kids grew up, she found herself with an empty nest. She tried to fill her time as best she could, but she didn't feel like herself when she wasn't caring for others.
An empty nest is certainly not necessary to become a foster parent, but for Jennifer, the timing was perfect. In 2018, she became licensed to foster. She felt a renewed sense of purpose as a foster parent with Catholic Charities' Foster Care and Adoption program.
Jennifer was overjoyed to receive her first placement. However, after 13 months, the young girl she was fostering was reunited with an aunt. Jennifer felt heartbroken, but this situation reminded her that foster care is temporary, and every placement will not be permanent, reunification is the goal.
The Joy of a Successful Placement
The next month, Jennifer had another placement that ended up staying with her for two and a half years. The girl was eventually reunited with family, but she and Jennifer continue to maintain a close bond.
"Her mom considers me her second mom. I get her on holidays and in the summers," said Jennifer.
In August 2020, another blessing came into Jennifer's life. She began fostering a little girl, Kadence, and ended up adopting her in November 2021. Jennifer has also been fostering a group of three siblings for over a year.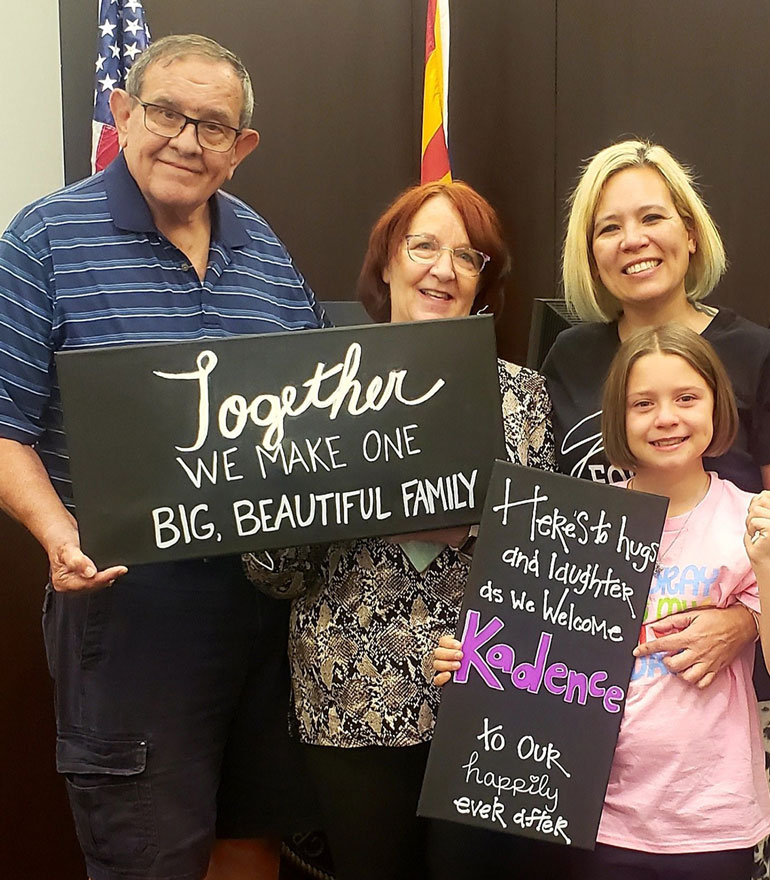 Foster Parent Support
Jennifer emphasizes how important it is to have support from family and friends. She is grateful that her oldest son can come watch the kids when she needs time off. Jennifer strongly encourages other single parents who are interested in fostering to pursue it, because there are resources out there to help.
"It's doable. My kids go to school, so they are with me. There is childcare available for working parents. A lot of schools offer aftercare," Jennifer added.
A Rewarding Journey
For Jennifer, being able to show her kids the love they deserve and seeing them return that love is one of the greatest rewards. She believes that treating children in foster care like your own gives them the structure and boundaries they need. This is the key to them thriving while in foster care. Jennifer is grateful to Catholic Charities and her licensing workers for being reliable and supportive throughout her journey. She plans to continue fostering and making a difference for as long as she can.
If you're interested in becoming a foster parent and being a miracle to children in need, view our Foster Care and Adoption page to learn more about the licensing process.