No veteran should experience homelessness. The Catholic Charities MANA (Marines, Army, Navy, Air Force) House provides transitional housing and support for veterans experiencing homelessness and helps them find permanent housing.
At MANA House, veterans find a safe place to start over. They also receive case management that may include career counseling, job placement, assistance with Social Security and Veterans Affairs (VA) benefits, educational programs, volunteer job opportunities, connections to healthcare, and more. This support gives each veteran the opportunity to reclaim a life of self-sufficiency.
Most veterans move into a studio or one bedroom apartment upon leaving MANA House. They are ecstatic to have stable income and a place to call their own. However, it is expensive to furnish and set up an empty apartment.
Welcome Home Kits
Fortunately, MANA House provides Welcome Home Kits to lessen the financial burden. Welcome Home Kits contain cleaning supplies and other items necessary to set up an apartment.
Rachel Masch, AmeriCorps VISTA Community Engagement Coordinator at MANA House, creates the Welcome Home Kits, sometimes called Move In Kits. "We want the veterans to save as much of their money as possible so they can spend their money on things that are more important," she said.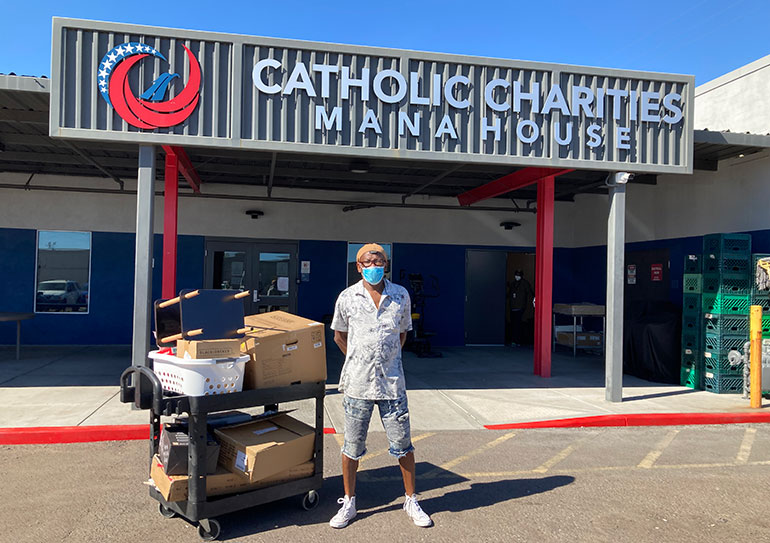 Veterans Receive Essential Items
Those more important things are rent and utilities. The kits are given to veterans as they move out of MANA House and into their own housing.
Each kit includes the following items, at minimum:
Laundry basket
Bathroom cleaning supplies (plunger, toilet cleaner, toilet brush)
Household cleaner
Dish soap
Hand soap
Broom and dustpan
Trash cans (kitchen and bathroom)
Trash bags
Toilet paper
Shower curtain and liner
"Cleaning supplies, even a broom and dustpan, are expensive. When a veteran moves into their own place, they shouldn't have to worry about those little things that add up," Masch added.