Chris Garland knows how tough it can be for a child in foster care. As a teenager, she went to live with a foster care family until she aged out of the system.
Now, Chris is an adult and living a full life working as a senior claims adjuster for Gallagher Bassett Services, Inc. in Scottsdale, Ariz. As a parishioner of St. Francis Xavier church in Phoenix, Chris heard Tami Bohannon, Catholic Charities vice president of advancement, talk about foster care during mass.
Catholic Charities Foster Care
"She was very compelling, and I wanted badly to give back to the system that helped me as a kid in rescuing me from a harmful living situation," said Chris. "I approached the manager of our Scottsdale office, Bruce Martin, and he approved a diaper drive for the foster care system. About 15 of my coworkers participated in the event that took place over a month. They bought hygiene products for the older kids and donated their gently-used baby clothes and car seats. I was amazed at their generosity.
Diaper Deliver for Foster Families
Chris and her supervisor, Paul Chambers, drove to deliver the diapers and supplies to Catholic Charities and were met by Catholic Charities President Paul S. Mulligan, Tami Bohannon and other Catholic Charities staff from our foster care program. "This is an important charity to me because I've seen first-hand foster parents opening their hearts, homes and families to kids like me without a safe place to live," said Chris. "I was too young to appreciate the sacrifices my foster families made, but as I look back, I'm convinced that fostering a child is a heroic endeavor."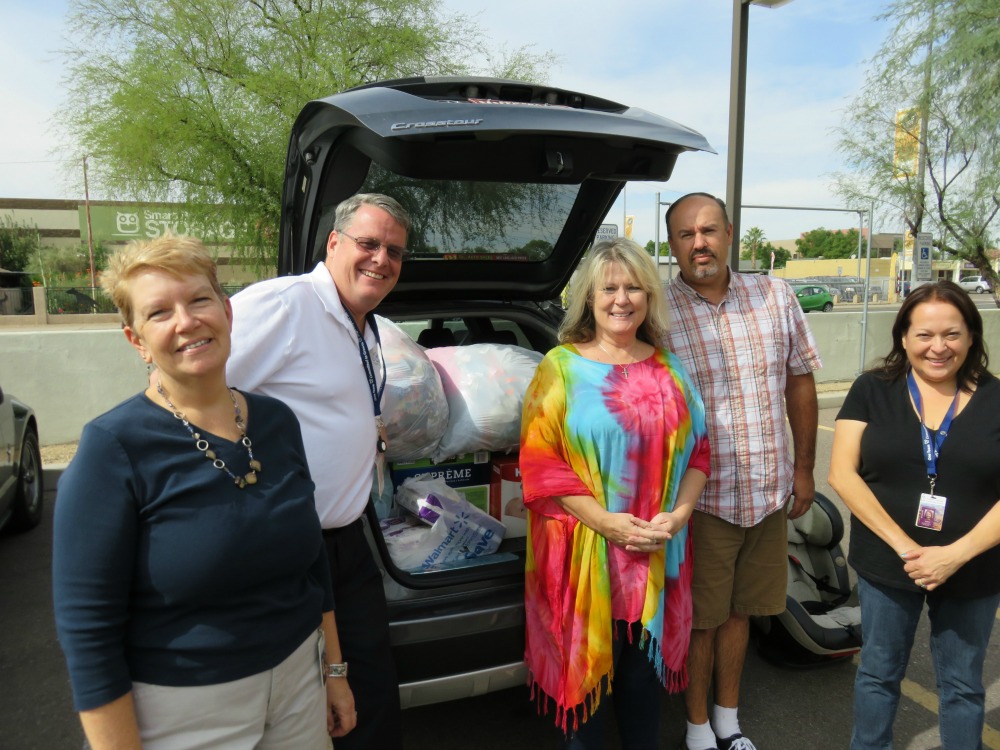 (from left to right) Sally Gramke, Catholic Charities foster care staff, Paul S. Mulligan, Catholic Charities president, Chris Garland, Paul Chambers and Veronica Soto, Catholic Charities foster care program manager.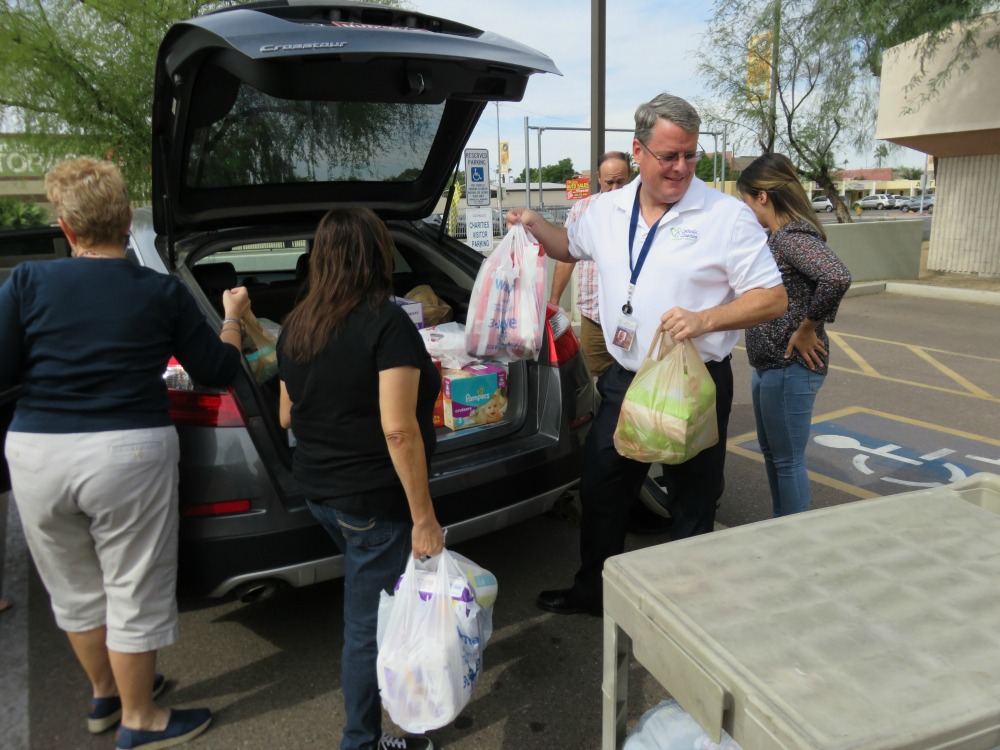 Staff helped unload diapers and other supplies donated by Chris and her coworkers.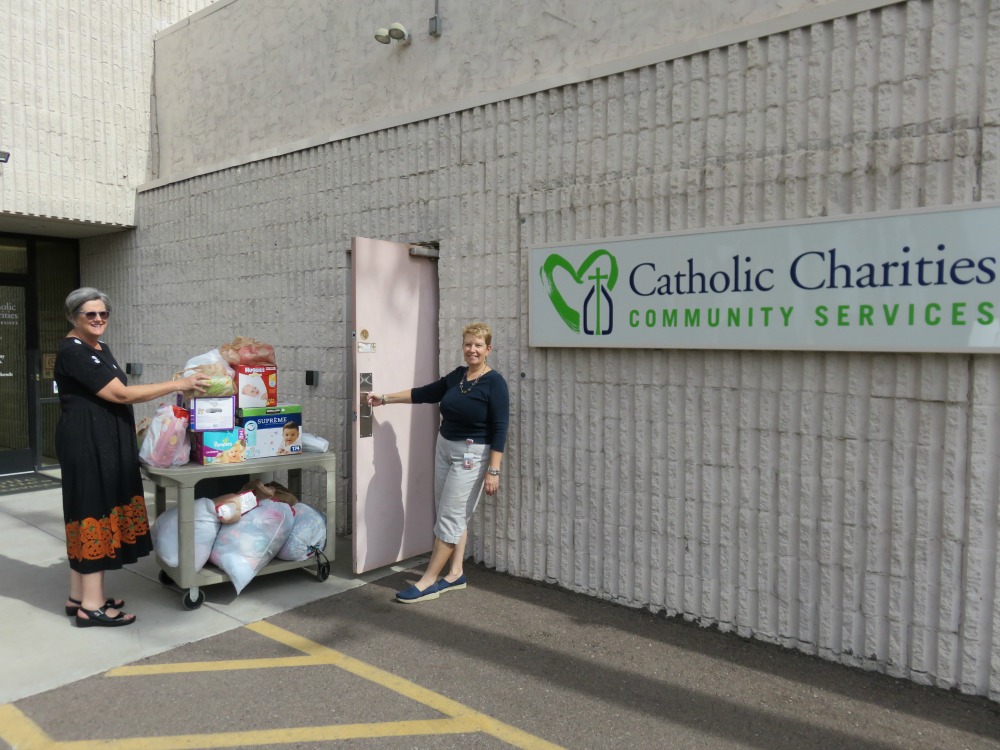 Tami Bohannon and Sally Gramke take donated supplies into foster care office.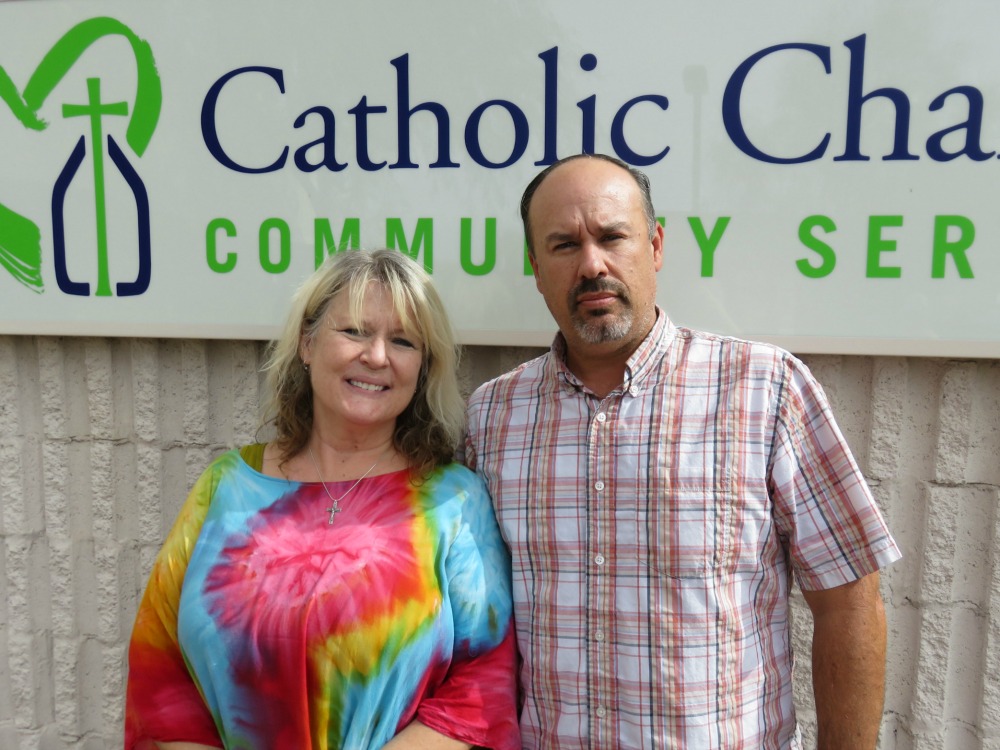 Thank you Chris Garland for taking the initiative to help out! And thank you, Paul Chambers and all the coworkers who gave from Gallagher Bassett Services, Inc. in Scottsdale, Ariz.! We appreciate your caring hearts and generosity!
Learn more about our foster care program and how you can help! You can be a miracle to a child or a foster family today!