Teenagers often get a bad rap—often accused of selfishness and apathy. Teens in northern Arizona are fighting those stereotypes through acts of service.
Thomas Jefferson once said, "May I never get too busy in my own affairs that I fail to respond to the needs of others with kindness and compassion."
Teens from the Peer Assistance and Leadership (PAL) club at Prescott High School partnered with the Coalition for Compassion and Justice recently to hold a Share the Warmth sock and hygiene drive. The donated items will benefit homeless and needy people in the Prescott area. The PAL club was made possible by the Catholic Charities' North Star Youth Partnership, which works to help youth make healthy life-decisions.
Socks for the Homeless
Group members set out to get socks for a specific reason. For those who live on the streets or in shelters, dry socks are often hard to come by. Foot problems can lead to infections and eventually amputations, so socks can make a big difference.
Other difficult items to get on the streets include soaps and other hygiene products for reducing infections and promoting better health.
At the end of the campaign, the teens collected: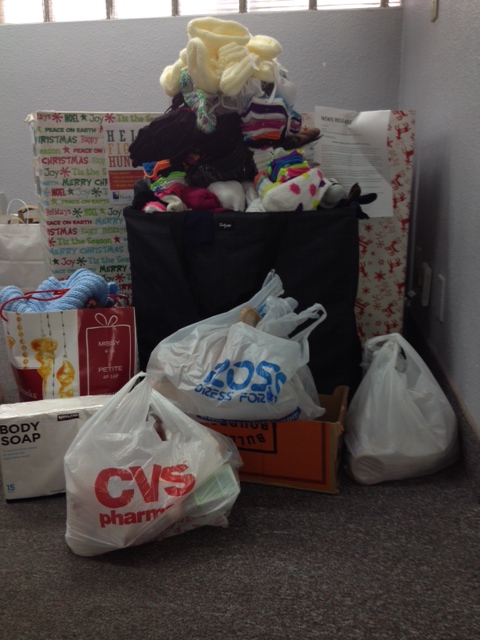 149 bottles of shampoo and conditioner
264 bottles and bars of soap

78 bottles of lotion

35 tubes of toothpaste

67 tooth brushes

16 bottles of mouth wash

18 sticks of deodorant and perfume

86 hats, scarves and gloves

30 hand warmers

382 pairs of socks
The group did an outstanding job in making a big difference in their community and encouraging others to give of their abundance to help others in need.
A special thanks to Starbucks, Safeway, Arizona Credit Union, Computime, Granite Mountain Hospice & Home Care, Mile High Middle School, Prescott High School and Embry Riddle Aeronautical University for assisting with the drive.
North Star Youth Partnership
Catholic Charities' North Star Youth Partnership helped to create the PAL club and other partnerships to help youth choose healthy lifestyle behaviors that prevent violence, gang activity, substance use and teen pregnancy. More than 60,000 northern Arizona youth have participated in its award-winning programs since 1997.
Learn more about North Star Youth Partnership or get involved as a monthly giver to help Arizona's youth.