Do your plans this summer include a flight or car trip with a child under age 5? Would you like your vacation to be as stress free as possible? Here are four tips that will make your trip a real vacation.
1. Planning and Packing
Talk with your toddler or young child about how you will travel and what to expect to prepare your child for your vacation. Try reading a children's book about travel as a bedtime story as your trip approaches.
Pack a separate bag that will be easily accessible in the car or plane with an extra change of clothes for you and your child. Include extra absorbent diapers, wipes, snacks and feeding supplies in the bag as well. If possible include your child in choosing a favorite toy, book or outfit to pack.
2. Airport Security
Children under age 12 are allowed to keep their shoes on when heading through airport security, but they will be curious as to why you are taking your shoes off. Babies and toddlers need to be removed from carriers and strollers and held to go through security. All bags, strollers and carriers that fit will need to be put through the x-ray machine. If you are flying, breastmilk, formula and/or food needs to be placed in a zip-top bag and let the security officer know you have medically required liquids at the beginning of the screening check point process.
3. The Journey
If possible, schedule part of the drive or flight to occur when your child is asleep. Take-off and landing can cause pain in the middle ear while pressure equalizes. Nursing or bottle-feeding will help and also a pacifier.
Bring portable, child-friendly activities to keep little hands busy. Simple ideas include crayons and paper, sticker books and pipe cleaners with O-type to cereal to make an edible bracelet. Pass them time singing together, looking for colors and shapes.
4. At your Destination
Upon your arrival, check your new environment for any safety concerns. When planning your daily schedule consider naps and meal times as young children thrive on routines and consistency. Also, be realistic about your child's developmental stage and abilities.
To avoid meltdowns, give your child ample time to explore his new environment and allow plenty of time when transitioning between activities.
Children thrive when surrounded with their loving caregivers and your attachment gives them the security to explore and enjoy a family vacation.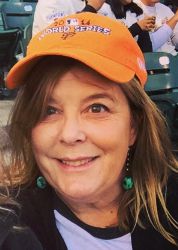 Robyn Johnson is a parent educator with the Arizona Partnership for Children (AzPAC) program Parents As Teachers. AzPAC is a partnership between Catholic Charities Community Services and Devereux that provides family support through home visits, group connections, screenings and assessments along with needed resources.