All through the valley, schools are getting ready for spring break. Time off from routines can be fun but also create challenges for you if you have young children. If you rely on a school for child care, then you are faced with a special challenge. Advanced planning and fun activities can make your child's time off meaningful and fun.
Five Tips for a Special Spring Break
1. Keep a Routine: Relax but don't vary too much from your child's typical routine especially around sleeping and meal times. Children benefit from a consistent routine and ensuring meals, snacks and naps or bedtime occur will help all family members enjoy their time together.
2. Plan Ahead for Time at Home: It is not necessary to structure every minute of your child's free time, as unstructured play is good for building independence and creativity. However, a little direction will keep your child occupied and having fun.
Unstructured does not mean unsupervised since you are still your young child's favorite plaything! Here are a few simple ideas for some unstructured play time:
• Set up a water/sand table with measuring cups or cars/dolls to wash.
• Make a batch of no-cook play dough together.
• Gather scraps materials (paper towel rolls, boxes, lids etc.) provide tape and let your child create a Scrap Sculpture.
3. Explore Your Community: Active Mom's Magazine created by a local mom serves the greater Phoenix area and provides information on family events daily throughout each month. Events range from ongoing festivals, introductory classes, local attractions and special events. Activities range from free to pricey.
4. Enjoy the Outdoors: This is a wonderful time of year for you to enjoy warm weather before it gets too hot. Protect yourself and your little ones with sunscreen and protective clothes. Then enjoy free parks or low-cost day passes to local hiking.
5. Travel: If you are planning a vacation during spring break, be prepared with snacks and activities to keep children engaged while traveling. Car rides are great opportunities for uninterrupted conversation and learning. How many blue cars can your 2 year old spot? Can your preschooler figure out your I Spy riddle? Many travel destinations may be more crowded, so build in extra time and be safe. Get out, have fun and enjoy your spring break!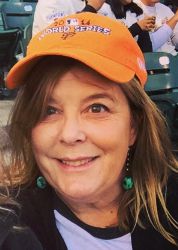 Robyn Johnson is a parent educator with the Arizona Partnership for Children (AzPAC) program Parents As Teachers. AzPAC is a partnership between Catholic Charities Community Services and Devereux that provides family support through home visits, group connections, screenings and assessments along with needed resources.