Halloween can be an exciting holiday for parents and children. Young children, toddlers and preschoolers, are looking forward to participating but may struggle with familiar people dressed differently or scary costumes.
Children are still developing their concept of real and imaginary. Follow your child's cues, provide reassurance, be flexible! If fear is an issue, there are other options than standard trick or treating. Here are some tips to keep your Halloween safe!
Costumes
Young children can see better without a mask; use face paint instead. It is a good idea to test for skin sensitivity first.
Keep costume length short to avoid your child tripping on the hem.
Help your child be easily visible by using reflective tape on costumes, using child-safe glow sticks or bands.
Make sure props (swords, wands etc.…) are soft and flexible to avoid injury
Buy costumes made of fire retardant material
Beware of overheating, warm and heavy costumes may be too much on a warm Halloween in Arizona
Trick or Treating
Young children should always trick or treat with an adult
It is safest to stick to neighborhoods you know and approach houses that are lit and prepared for trick or treaters
Excitement is high -- discuss safety prior to leaving home and set the ground rules
Stay on the sidewalk -- holding hands if needed
Cross at intersections looking left; right; left prior to crossing
Walking from house to house is the safest; if your little ones are too excited help modulate by making a game of it. Taking GIANT steps or a being a Marching Monster are two alternatives to running.
Treats
Eat a healthy dinner prior to trick or treating
Parents should check candy for safety; discarding any opened or homemade treats
Hard candy and nuts are choking hazards for children under three
Freeze some of the candy to use later
Children with Allergies
The Teal Pumpkin Project started in 2014 encourages families to take the pledge and provide non-food item treats and display a teal pumpkin. Non-food items like pencils, stickers, glow sticks or small toys are a fun choice.
The TEAL PUMPKIN PROJECT and the Teal Pumpkin Image are trademarks of Food Allergy Research & Education (FARE).
Other Halloween Fun
Alternatives to traditional trick or treating are Halloween festivals or Trunk or Treat events.
Candy is not only for eating. Practice your preschool skills like counting, matching and sorting.
Some dentists will pay kids for candy.
Halloween is a lot of fun but don't forget to monitor candy consumption and be sure to brush teeth to avoid cavities. If you end up with more candy that you need, Operation Gratitude has a donation program to send candy to our troops. It is a wonderful opportunity to teach about sharing and giving and avoid eating too much candy.
Wishing you all a safe and Happy Halloween!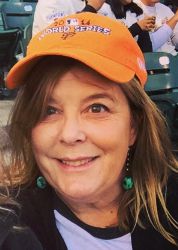 Robyn Johnson is a parent educator with the Arizona Partnership for Children (AzPAC) program Parents As Teachers. AzPAC is a partnership between Catholic Charities Community Services and Devereux that provides family support through home visits, group connections, screenings and assessments along with needed resources.