The brush was thick off the desert road at Body Beach in Lake Havasu City. My colleague, Rick Brust, Homeless Outreach Program Coordinator came in from Flagstaff to explore and do outreach at some homeless camps with me.
It wasn't long before Rick saw a man sitting in the leaves along the edge of the two track road. When I close my eyes I can still picture him there. He had his knees to his chest and was sitting under some brush.
Rick and I did what we would normally do when we find a person without shelter. We supplied a tent, sleeping bag, water and a hygiene kit. Then we made follow up plans for the next day. I reassured Travis that I would be back at 7 a.m. to pick him up. We talked briefly about him being from California. I asked him if he likes coffee, he replied, "Sure." Then Rick and I left.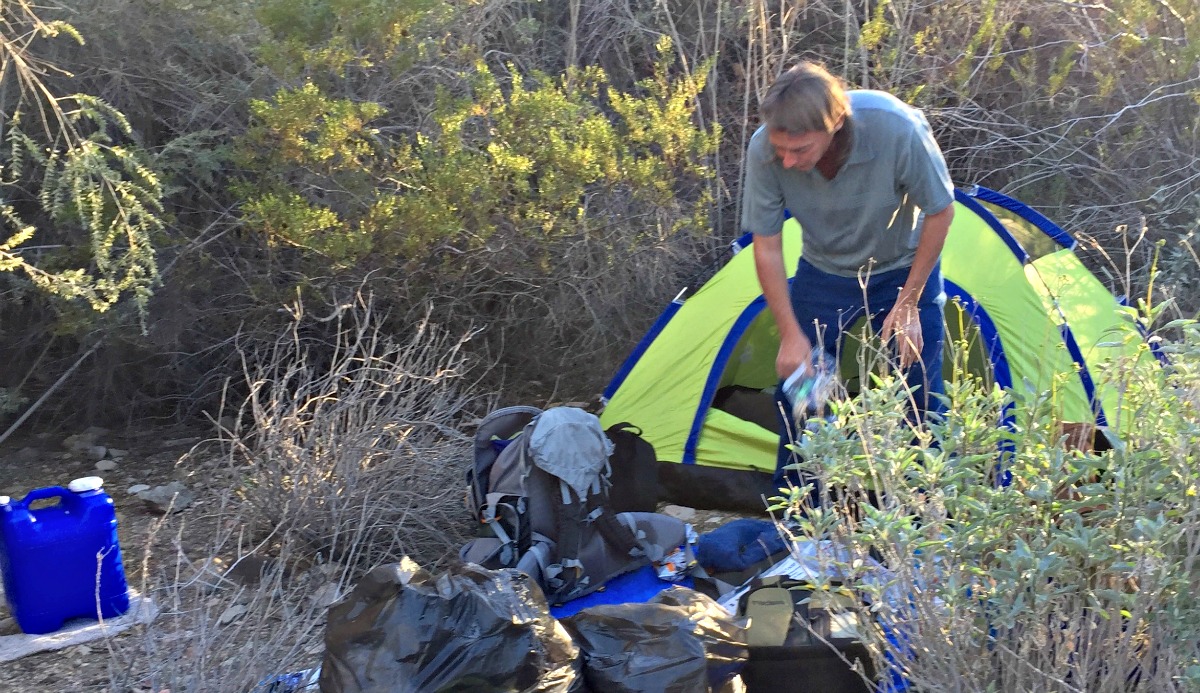 Putting the Pieces Together
The next morning I picked up volunteer Cathy Wilson. She and I went to get Travis from his camp. He was outside of his tent anxiously awaiting our arrival. We went to McDonald's for food and coffee, then to the Aquatic Center for a hot shower and fresh clothes donated by Veterans Thrift.
After returning to his camp, we made arrangements to come back that afternoon to take him to The Lady of Our Lake soup kitchen at 3:30 p.m. Travis seemed overwhelmed but agreed.
My husband, Kirk Harris, also a volunteer, joined us at the soup kitchen. Travis ate well and took plenty of food back to camp. Routinely, I suggest that we get coffee the next day and visit the behavioral health center in the morning for an evaluation. Travis agreed.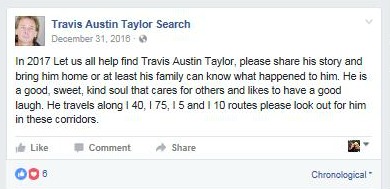 Veteran Missing for 25 Years
Everything changed that night. I couldn't sleep. I went on the internet and typed in "Travis Taylor Missing." Why, I still don't know, but there it was; "Travis Austin Taylor Search" with his picture. Travis' family in Salinas, Calif., was searching for him. The article read:
"Travis has been seen in Parker, Arizona on Monday, January 23, 2017. Please be on the lookout for him and advise him to contact his family through this page. Please share his story and bring him home or at least his family can know what happened to him. He is a good, kind soul that cares for others and likes to have a good laugh. He travels along I-40, I-75, I-5, and I-10 routes, please look out for him in these corridors."
The article said that Travis was 47 years old and a veteran of the Persian Gulf War. It went on to recount his travels. There had been sightings across the country from Florida to California over the past 25 years. In 2011, he received facial burns in Texas during a season of wildfires.
Almost in shock by what I was reading, I replied to the missing person site and typed, "I am Susan Harris with Catholic Charities; we have made contact with Travis here in Lake Havasu City. Please call."
After a sleepless night, a response to my message came at 7 a.m. on Wednesday, February 15. "I am his mother. I hope he is ok. Let me know what I need to do."
Bringing Travis Home
Volunteer Cathy Wilson and I proceeded to Travis' camp, where he was waiting for us. I asked, "Do you want to be found by your family, Travis?" He gave me a quick response of, "Sure." I asked if he would like to talk to his mom on the phone. "Sure," was his response again. They talked, Sandra, Travis' mom was beside herself, embracing Travis over the phone. She was amazed.
So that day, Travis and I spent a lot of time together, awaiting his mother's flight plans into Las Vegas. Travis seemed very disconnected from his emotions, possibly coping or survival skills learned in the traumatic times of homelessness.
I was concerned that Travis, in fear, could leave or wonder off unknowingly. His mother was frantically trying to make arrangements from California to get her son. The question was, do we get a hotel room for Travis or do we take him back to his familiar camp. His comfort zone was in the brush.
I made arrangements for him to talk with his mother again, and he agreed to meet me at his camp the next morning, Thursday, February 16. I contacted Aloha Express Shuttle, and they donated a ride for us to Las Vegas airport to reunite Travis with his mom.
After a short night, at 5:30 a.m., Kirk Harris and I arrived at the camp to pick up Travis. The blinking flashlight I gave him was on. In the stillness of the dark, we saw him by the tent. I asked, "Are you ready to go home to your mom?" He replied, "Sure." I could tell he was, tears had already formed in my eyes, and I gave him a big hug, I knew that he was ready to begin again.
He grabbed his new backpack, and we went to the Quality Inn to catch the shuttle to the airport. The arrival was scheduled for 2:20 p.m.
Travis and I had an uneventful trip to the airport. We waited patiently by the passenger arrival entrance. Sandra and I exchanged photos so she would know who to look for. Travis didn't say much throughout the day, once he voiced that he was scared. I reassured him that his mom was going to be here shortly and everything would be ok. I think we both had a moment of clarity. This was really happening.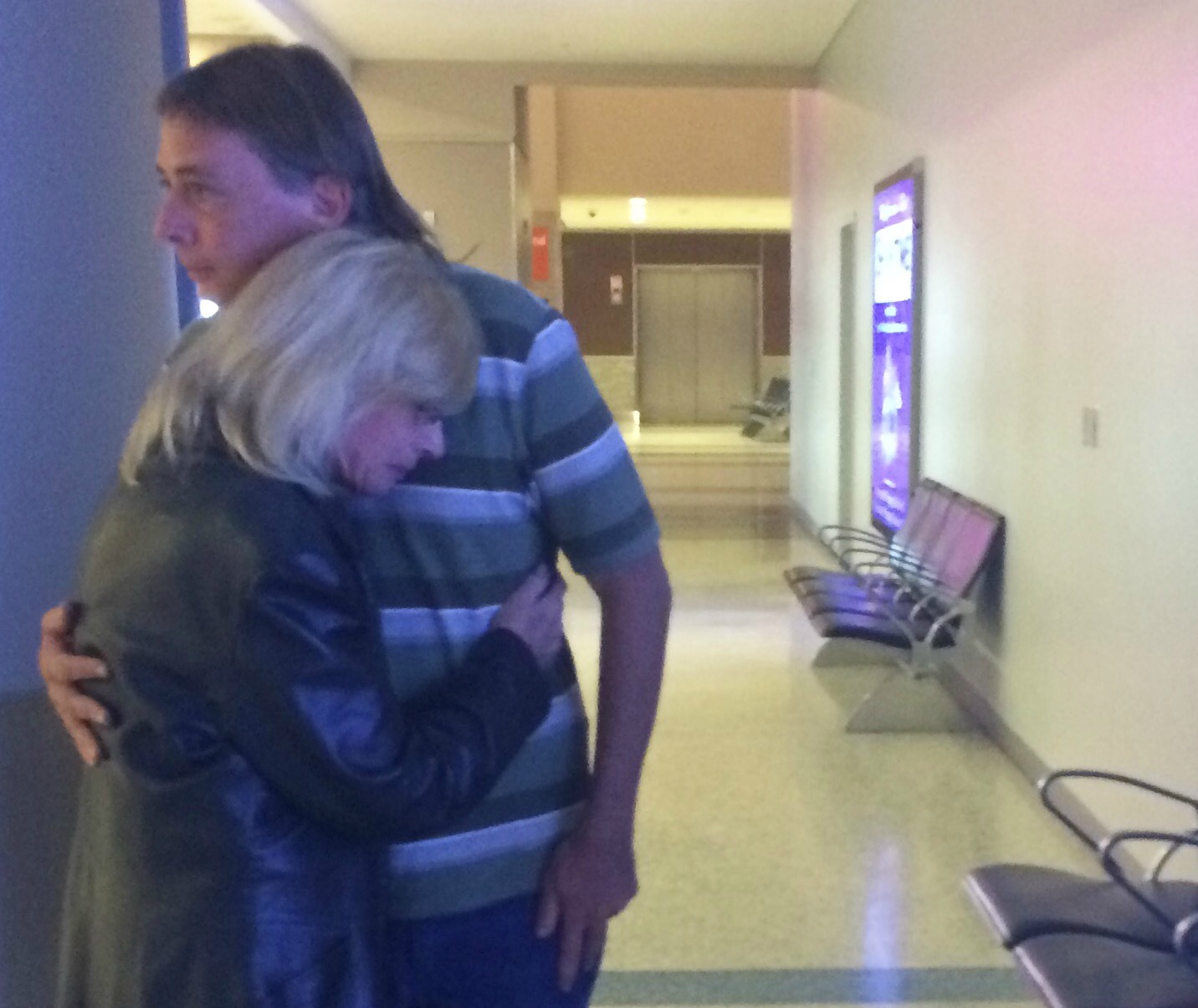 Homeless No More
Sandra saw Travis for the first time in 25 years. Her son was once again safe in her arms. God did for them what they could not do for themselves, now the search was over.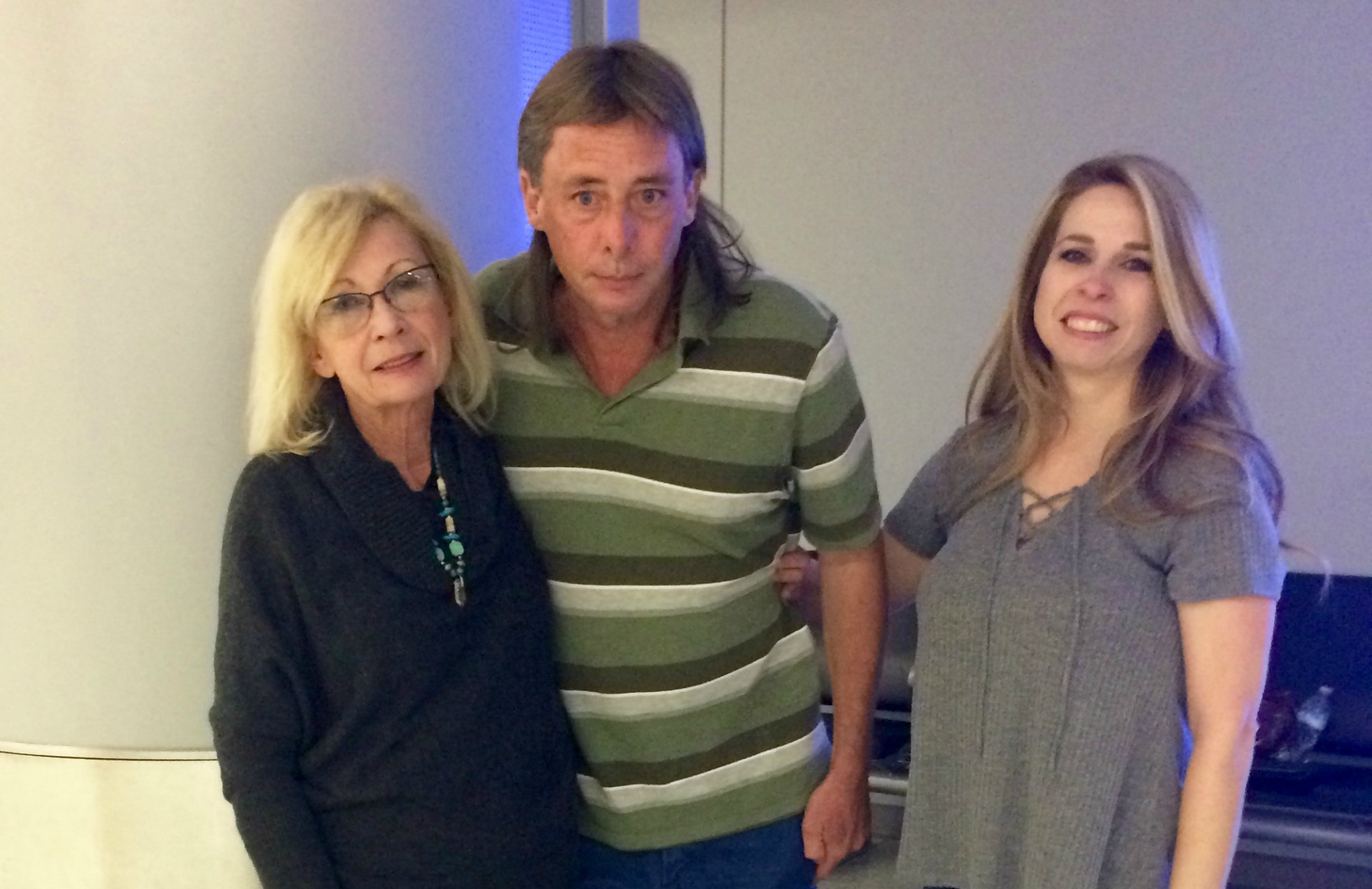 Mom hugs son for first time in 25 years.
Sandra took Travis home to California where he is getting the support he needs to heal and be a part of a family again. Your support and the support of local funding by the Arizona Community Foundation of Flagstaff and its collaborators including the Geile Charitable Trust, the Forest Highlands Foundation and United Way of Northern Arizona, all help to make work like this happen. Learn how you can support Catholic Charities Homeless Services as a volunteer or with a one time or reoccuring monthly gift.