Rosemary Navarro is a go-getter. Working as a family support specialist with Catholic Charities Westside Head Start, she seeks out families to enroll in the program.
She regularly goes door-to-door to share the benefits of Head Start and inform people about the program.
Recruiting for Head Start
"When we meet people for the first time we try to ask them questions to make sure they qualify," said Navarro."Families must be below the poverty line. We also help families facing situations such as foster care, caring for children with disabilities, families experiencing homelessness, receiving cash assistance or children with incarcerated parents may also qualify."
Last month, Navarro and a co-worker made their neighborhood rounds and saw a lady with a small child at a bus stop. She parked her car and gave a flyer to the woman while telling her about the free child education through Head Start. The woman explained that the child was her grandson and she watches him during the day while his mother works. Her daughter is a single mom and does her best to provide but couldn't afford preschool.
About a week later, Navarro was on phone duty in the office and got a call from the grandmother. She wanted to enroll her grandson and insisted Navarro be the one to help with the application.
The grandmother said, "My grandson should have an education, I could take him."
Family Support
Navarro not only seeks families out, but also supports families once they are in the program. She meets with families in the classroom and in some situations at their homes. Family support specialists start bonding with their families at the very first meeting.
She talks to them about their goals and how she can help meet them. Sometimes families may need help with food boxes, finding a job, better housing, and other times they just need parenting coaching.
In some occasions, family support specialist will transport parents for doctor's visits, grocery stores or take them to job force in a company van.
Above and Beyond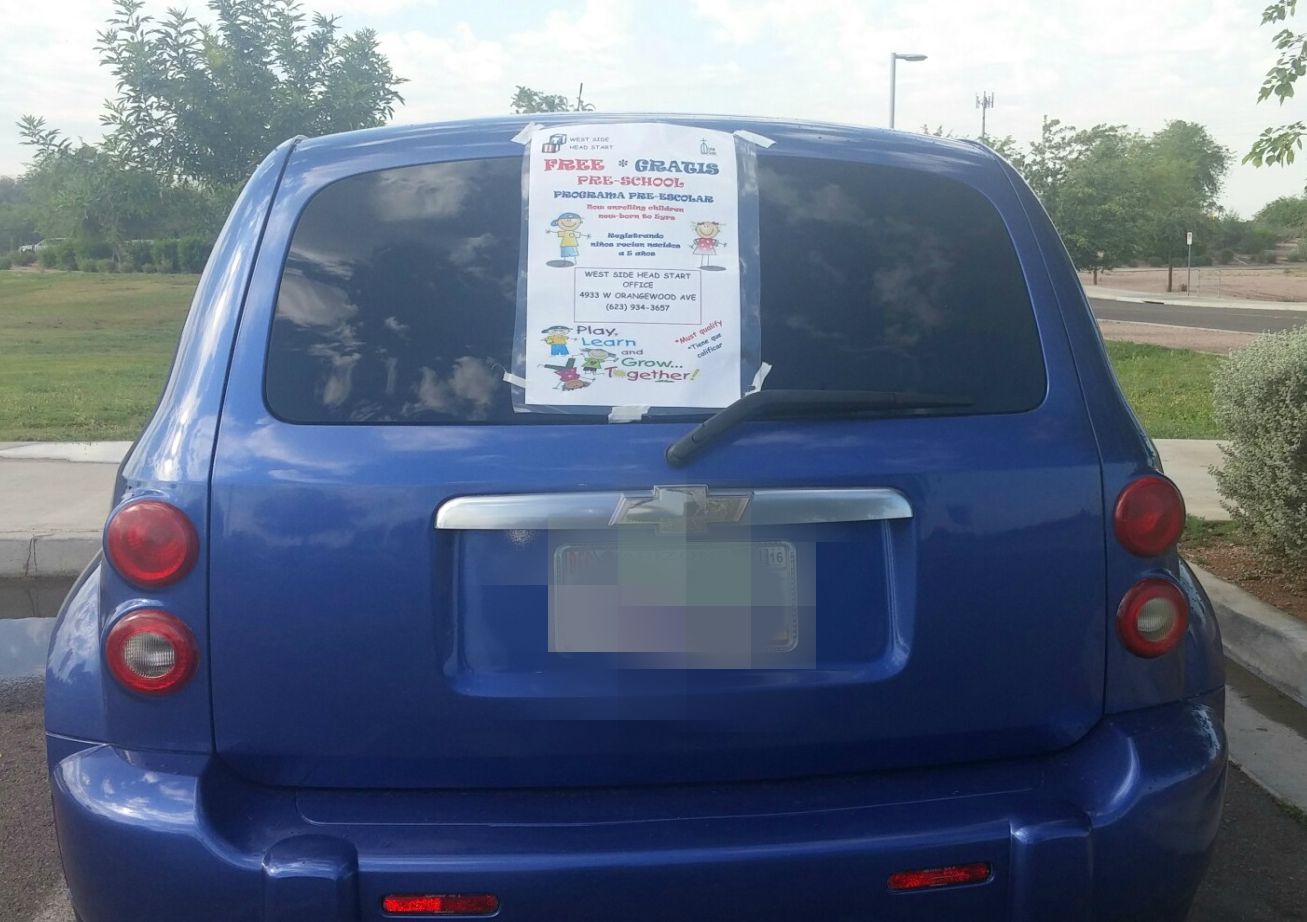 Navarro always sees opportunites to share Head Start with people. She has even made homemade signs and posted them at her granddaughter's birthday party and on her vehicle when it will be in a busy parking lot.
"I am in love with the mission of helping families," says Navarro.
You can join Navarro in promoting Catholic Chairites Westside Head Start in Glendale, Ariz., by learing more about it and sharing it with your friends. The program is for kids 0-5 years old. Our qualified, trained staff work with parents and families in their homes and in more than 50 classrooms throughout western Maricopa county.