Each year, students at St. Francis Xavier Catholic School embark on a rite of passage that has been a defining moment for hundreds of students over the last decade. This pivotal experience for seventh and eighth grade students encourages them to become personally involved in social justice concerns around them through Catholic Social Teachings and the Arrupe Project.
What is the Arrupe Project?
Named for Father Pedro Arrupe who said, "Today our prime educational objective must be to form men and women for others, men and women completely convinced that love of God which does not issue in justice for others is a farce." The Arrupe Project empowers students to research issues that effect their community, raise money by creating items to sell at a marketplace, then use those funds to help the most vulnerable individuals, children and families.
School officials agree, "The Arrupe Project impacts the students in so many ways. It helps them identify issues in the local community that they feel called to after much research and spiritual discernment. The process allows students to explore solutions, create plans, and take action." The school partners with Catholic Charities and provides students the opportunity to learn about those served through the 20 plus programs throughout Central and Northern Arizona.
By the end of an Arrupe Project, students have raised money to purchase items like diapers for moms in crisis, toys and sports equipment for children and teens in poverty, sleeping bags and outdoor survival items for people experiencing homelessness, reading glasses and bus passes for veterans, and more. "The Arrupe Project teaches many important social-emotional skills such as empathy and self-reliance. Their faith journey guides them to be of service and to walk with Jesus on his path to love and care for everyone," said school officials.
How Arrupe Projects Work
"Students choose from a variety of cause areas including pregnant mothers, domestic violence survivors, early education for low-income children, veterans and others experiencing homelessness, children in foster care and more," said Dulce Valdez, Parish and Diocesan Manager at Catholic Charities. "Arrupe Projects remind students that there are marginalized people in our community who have no voice. The project allows students to learn of the needs and how they can help and make a positive difference," said Valdez.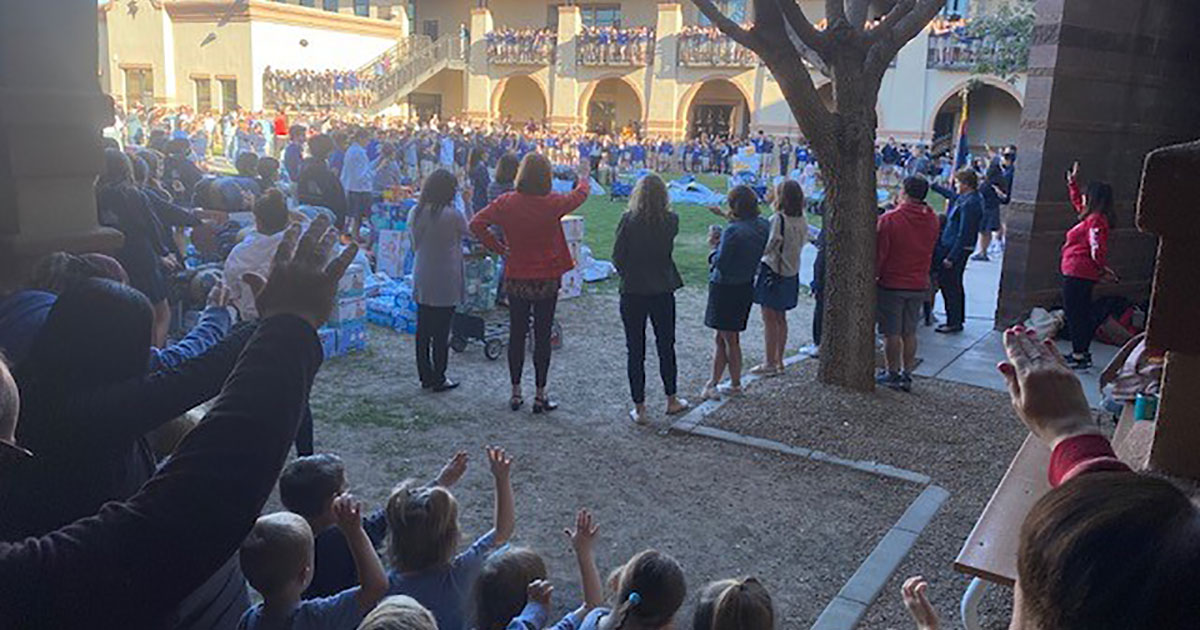 The Impact to our Community's Most Vulnerable
While students, teachers and parents are often in awe of the cumulative number of items donated to Catholic Charities programs, the reaction from our team members and the impact to clients is also inspiring and a cause for celebration. This year, students raised over $50,000 in cash and critically needed items to help those in need.
For example, students who choose to support our domestic violence program researched the issue, raised resources, then purchased items women and their children need while living in our domestic violence shelter which is always at capacity. Items like linens and pillows are always needed but comfort items for children are also important. Neyra Moreno, senior program supervisor at My Sisters' Place, was overwhelmed with joy when receiving donations for her program. "We are very grateful for all these donations. At this point, all of these items are going to assist our clients."
That moment of emotion made a big impact on student Sienna Andrews. She said she will always remember, "when we brought all the items into the gym and the lady helping us [Moreno] began to tear up."
Resident Services Program Manager, Sarah Hamilton, was filled with gratitude upon receiving donations. Hamilton and her team help residents in our affordable housing communities in the form of afterschool programs, community events, food pantries, and assistance connecting people to resources. Her program received donations of cleaning and hygiene supplies, crafting materials, nonperishable food items and more. "These donations will extend our ability to care for a greater number of residents at our communities. We have a limited budget, but this helps extend our reach even more."
Expanding the Influence of the Arrupe Project
In the years since Catholic Charities began partnering with St. Francis Xavier Catholic School for the Arrupe Project, we wanted to allow other schools and parish groups the same meaningful opportunity to be kids for others, so began Miracle Projects. Each year, hundreds of Arizona Catholic school students are invited on a journey to see the world through the eyes of the Good Samaritan and walk in faith and determination to make the world a better place.
To learn more about how to get your school or community group involved in helping others, reach out to Dulce Valdez at This email address is being protected from spambots. You need JavaScript enabled to view it. or purchase items directly off our programs Amazon Charity Lists.