Dating is serious business. Rebecca Sauer, a marriage counselor at Catholic Charities understands this better than most. She has counseled countless couples over the years.
Sauer says couple starting to think about marriage should consider these five questions before taking the next big step.
1. Do you know your partner?
"Dating teaches you important things beyond how attractive your date is," said Sauer.
You should learn his or her true character, how money is handled and conflicts resolved. If you are both on your best behavior you won't find out if you really love each other because of the show you are putting on.
2. How long have you been dating?
"Couples should date for one full year before they make any serious commitments," said Sauer.
In a year, you will see how your significant other celebrates holidays, interacts with friends and family and if he or she is bearable when getting sick. Dating for one year will also show you if your partner can keep a job or have seasonal hobbies. "If they go camping regularly and you don't like the outdoors, then break it off," said Sauer. "You don't want to fight about this for the rest of your life."
3. How compatible are you two together?
The dating process should reveal if you are truly compatible with the other person. This will be done by having serious discussions so you can discover important facts about one another. You should also talk about your hopes and dreams for the future. If your date is opposed to having children, and you want a houseful, then if you stay together, you will never have peace about this conflict.
4. What do you think about your partner's family?
Sauer encourages couples to pay close attention to how family members are treated. "If your family resolves things calmly and his family yells and screams, that is your future," says Sauer. You may not intend to spend a lot of time with your partner's family, but once married, they become your family as well. They will also be your children's grandparents and role models. "Don't make the mistake of meeting the family at the wedding," said Sauer.
Likewise, don't stay with a bad match because you love his or her family.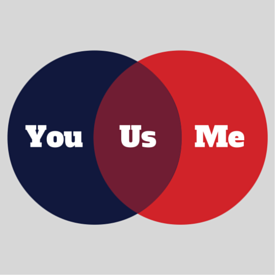 5. Are you losing yourself in the relationship?
When you date someone you should not lose yourself. "Don't' spend all your time with them or be clingy. If they are clingy, run away," said Sauer. "Live your life like you always do; you are two overlapping circles: you, me and us.
Sauer encourages people to ask themselves these three questions.
Am I being respected?
Do I feel like I can continue to grow as an individual if I spend the rest of my life with this person?
Do I feel like I can be happy for 60 years?
Investing time and effort while dating will yield a healthier and happier marriage. If you are struggling in your marriage, it's not too late. Contact Catholic Charities counseling program to schedule an appointment with one of our experienced counselors today.